Simone Marstiller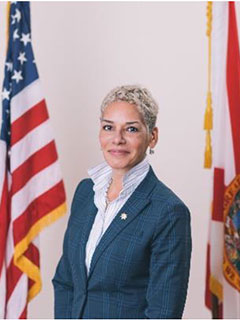 BBA '88 (Business Administration), JD '96
Secretary, Agency for Health Care Administration, State of Florida
Tallahassee, Florida
Simone Marstiller is the Secretary of the Agency for Healthcare Administration appointed in February 2021 by Governor Ron DeSantis. Just prior, Simone served this administration as the Secretary of Juvenile Justice.
Before Governor Ron DeSantis appointed her as Secretary of the Department of Juvenile Justice in January 2019, she was Of Counsel with Gunster, Yoakley, Stewart, P.A., in the firm's Tallahassee and Tampa offices, where her practice areas included appellate consulting and litigation, government affairs, procurement, and ethics and elections. Prior to joining Gunster, Simone served for six years as a judge on the First District Court of Appeal. She was appointed to that office in 2010 by Governor Charlie Crist.
Simone's legal career prior to her judicial appointment was exclusively in state government and covered a breadth of substantive areas. Early on, she served as a judicial law clerk in the Fifth District Court of Appeal and then as Chief Appellate Counsel for the Agency for Health Care Administration where she represented the agency in the district courts of appeal defending disciplinary action taken against the licenses of health care practitioners. Her appellate cases also included issues relating to rule challenges, Medicaid provider contracts and reimbursements, and other agency decisions.
In 2001, Simone became Assistant General Counsel to Governor Jeb Bush. In that position, she assisted the Governor's General Counsel in overseeing the legal operations of the Governor's agencies and advising the Governor on a wide variety of legal and policy issues. Her work included managing trial and appellate litigation initiated and defended by executive agencies in both state and federal court and providing guidance to agencies on substantive legal matters.
Simone was selected in 2002 to serve as General Counsel for the Department of Management Services (DMS), the administrative agency for state government. There, she managed all legal affairs for the agency, including matters related to government procurement, outsourcing, state facility management, and collective bargaining. While serving in this capacity, Governor Bush appointed her Interim Secretary of the agency.
From DMS, Simone returned to the Governor's Office in 2003 to serve as Deputy Chief of Staff. In 2004, Governor Bush appointed her State Chief Information Officer to head state government's central technology planning and policy organization, and in 2005 she became Secretary of the Department Business and Professional Regulation, the state's largest regulatory agency.
In 2007, Attorney General Bill McCollum appointed Simone Associate Deputy Attorney General for the State of Florida. In addition to serving on the executive management team for the Office of the Attorney General, she was the agency's General Counsel and was responsible for overseeing four agency divisions, including the Civil Rights and Opinions Divisions.
When appointed to the appellate court in 2010, Simone was serving as Executive Director for the Florida Elections Commission. There she oversaw the investigation and prosecution of complaints filed with the Commission and was the chief administrative officer for the agency.
Simone was born in Monrovia, Liberia, and grew up in St. Petersburg, Florida. She earned her Bachelor of Business Administration degree in 1988 from Stetson University in DeLand, Florida, and her Juris Doctor, cum laude, in 1996 from Stetson University College of Law in Gulfport, Florida.
Simone was elected to Stetson's Board of Trustees in May 2021.