Scott Marcello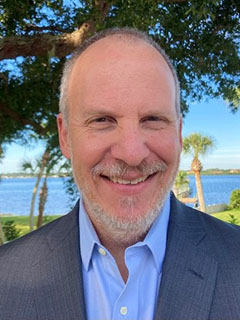 Board Teasurer
BBA '84 (accounting), MAcc '85
President, African Mission Healthcare
Daytona Beach, Florida
Scott Marcello graduated from Stetson in 1985, having earned both his undergraduate degree in 1984 and his master's in accounting in 1985. After graduation, Scott joined KPMG LLP where he spent 31 years serving in Orlando, Jacksonville, Columbus OH, and New York City. Scott currently serves as president of African Mission Healthcare (AMH). AMH is a not-for-profit organization that aspires to see an African continent filled with enduring and improving health systems where everyone has access to quality, compassionate healthcare. AMH contributes to this vision by strengthening mission hospitals throughout Africa to aid those in greatest need. Scott's duties allow him the pleasure of spending significant time with his AMH team and AMH's hospital partners throughout sub-Saharan Africa.
Prior to his role with African Mission Healthcare, Scott served as an audit partner with KPMG LLP and a member of the Firm's Management Committee and Board of Directors. During his career at KPMG, he focused on serving insurance companies and other members of the financial services industry.
While a student at Stetson, Scott was a member of Lambda Chi Alpha fraternity. He is currently the chair of Stetson's School of Business Administration Board of Advisors. Scott began his service on the Board of Trustees in 2021 and currently serves on the Finance Committee and as chair of the Audit Committee. Scott and his wife, Dené (also a Stetson accounting graduate), live in Daytona Beach and have four children: Laura, Michael, Jason, and Andrew.