Lila A. Jaber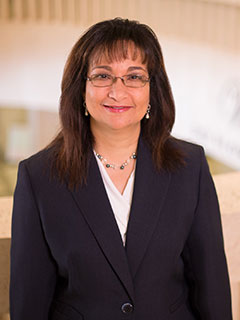 BA '88 (Political Science), JD '90
LilaJaber Consulting
Tallahassee, Florida
In her third decade of regulatory policy and government practice, Lila Jaber recently retired from one of Florida's leading law firms, Gunster Yoakley & Stewart where she successfully built and led a statewide regulatory and legislative government affairs practice earning her the role of Regional Managing Shareholder. Notably, Lila is also the architect of Florida's Women in Energy Leadership Forum, an annual initiative that highlights the workforce and economic development contributions of the electric and natural gas industries by affording women a platform to share their personal stories and career paths to inform, inspire and motivate others. In conjunction with her life-long desire to share success stories of working professionals, Lila recently launched a monthly news publication named The Power Source, Igniting the Future of Florida.
In November 2019, Lila was appointed to the Board of Directors of Chesapeake Utilities Corporation. Chesapeake Utilities Corporation, a multi-billion dollar revenue generator, is a diversified energy company engaged in natural gas distribution, transmission, gathering and processing, and marketing, as well as electricity distribution and generation, and propane gas.
Lila served two terms as both Commissioner and Chairman of the Florida Public Service Commission overseeing the state's implementation of economic regulatory policy and procedure for the energy, natural gas, water and telecommunications industries. Directly accountable for a then 380-member staff and for regulatory decisions impacting a $17 billion investor-owned utility industry, Lila represented Florida nationally on NARUC and chaired the Universal Service Joint Board and the FCC Advanced Services Task Force, where she promoted policies to bridge the digital divide so that all Americans have access to telephone and broadband services.
Today, under the banner of her own company, LilaJaber Consulting, Lila provides strategic and regulatory advice to national clients on a number of businesses, regulatory, and economic development issues. Lila's practice includes utility-specific matters in energy, water and telecommunications but extends to business strategy development for all companies doing business across the state and beyond. Lila's particular C-level consulting focuses on clients with priority growth in Florida and often includes witness preparation, mock hearings, and leadership training.
Through her years of public service and civic engagement, Lila continuously strives to cultivate ongoing relationships with the state's most influential decision-makers in local and state governments, based on a foundation of trust and respect. Her knowledge of Chapter 120 and the Administrative Procedure Act allows her to support her clients in understanding government practices. Lila represents water, electric, natural gas, and telecommunications companies in major and complex mergers and acquisitions, full PSC rate cases, settlement negotiations, and in relationship building and branding. As result of years of board service, including in government, Lila is frequently sought for administrative law advice specific to public records requests and sunshine law compliance. In addition, she represents clients in enforcement matters brought by the Office of Attorney General involving Chapter 501 Unfair Trade Practice Disputes.
Fluent in English and Arabic, Lila is an experienced speaker and presenter. In addition to a number of presentations on diversity, leadership, and regulatory policy, she has testified before the Florida Legislature and Cabinet, the United States Department of Treasury, and the United States Senate Committee on Commerce.
Lila is a servant leader well known for her collegiality and board experience. A former chair of the 1,600-member statewide leadership organization, Leadership Florida, Lila is passionate about and personally committed to making Florida a great place to live and work. She is involved at the state and local leadership levels, helping to promote civic engagement and economic development. Lila was a founding member of the Big Bend Minority Chamber of Commerce, where she worked tenaciously to promote growth and support for women and minority-owned businesses in five counties in the Big Bend region. Her civic commitments include her appointment by then-Mayor Andrew Gillum and the members of the city commission to serve as Chair of the City of Tallahassee's inaugural Ethics Board. Today, she is on the Leon County Office of Economic Vitality Council and the Children's Services Council Planning Committee.
Lila has earned a variety of honors and recognitions over the course of her career. Most recently, she was named by the Big Bend Minority Chamber of Commerce as the 2019 Lifetime Advocacy honoree. Other recognitions include the Tallahassee Women Lawyers Diversity & Inclusion Award, Tallahassee Democrat's "25 Women You Need to Know," and, in 2016, Lila received the commission of Kentucky Colonel by Kentucky's Governor for her noteworthy accomplishments and outstanding service.
In May 2019, Lila was appointed to the Board of Trustees of Stetson University, her alma mater, where she received her Bachelor of Arts and Sciences degree in 1988 and her Juris Doctor from Stetson University College of Law in 1990. Lila and her husband, children, and grandchild reside in Tallahassee, Florida.