Katherine Cobb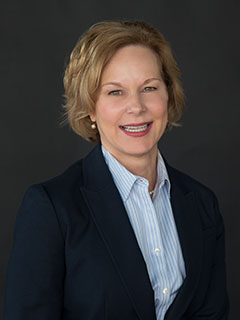 BA '81 (English), JD '83
President, Holy Trinity Episcopal Academy
A double hatter, Katherine Cobb attended Stetson University from 1977 to 1983 when she graduated from Stetson Law School with her Juris Doctorate. Immediately after graduation, she married Mark C. Cobb, a 1980 Stetson graduate. The couple moved to Melbourne, Florida where Kathy started her legal career as a State Prosecutor for the 18th Judicial Circuit Court.
In 1987, Kathy went into private practice with a civil litigation firm, practicing in both State and Federal courts. After a decade in private practice, she went to work for Brevard Community College (BCC), now Eastern Florida State College (EFSC). Initially hired as a faculty member, Kathy went on to become Dean, Provost and Associate Vice President for Academic Programs. While at BCC, she was instrumental in developing the Virtual Campus and the online programs for the college. Under her leadership, BCC became the first public institution in the State of Florida to offer a complete degree online.
As a result of her work with online education, Kathy became an active member of the Florida Distance Learning Consortium where she helped to develop statewide policies in distance learning. Governor Bush appointed her to the Paper Reduction Task Force in 2006. This task force was charged with identifying ways to increase the use of technology and electronic communications within the state government and particularly within the Florida Department of Education.
Kathy now serves as President of Holy Trinity Episcopal Academy, a private Episcopal School in Melbourne, Florida. Recently ranked by the Orlando Business Journal, in the top five K-12 private schools in the state and in the top one percent in the nation, Holy Trinity has an enrollment of over 900 students, grades preschool through 12. Both of Kathy's children are graduates of Holy Trinity and even her husband Mark attended the school in the 1960s.
Kathy was elected to serve on Stetson's Board of Trustees in May 2021.