J. Hyatt Brown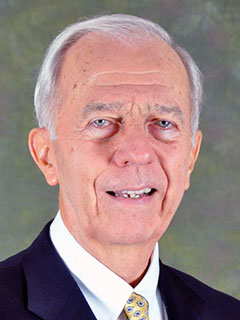 Hon. '92
Chairman, Brown and Brown, Inc.
Ormond Beach, Fla.
J. Hyatt Brown currently serves as chairman of the Board of Brown and Brown, Inc. since July 2009. Brown was President and CEO of Brown & Brown, Inc. from 1993 to December 2002 and served as president and chief executive officer of Brown and Brown's predecessor corporation from 1961 to 1993.
Brown was a member of the Florida House of Representatives from 1972 to 1980, and Speaker of the House from 1978 to 1980. He serves on the board of directors of International Speedway Corporation and Verisk Analytics, each a publicly held company, and is also a member of the Council of 100. He is a past vice chair of the Florida Residential Property and Casualty Joint Underwriting Association, past chair of the Council of Insurance Agents & Brokers, and a past director of BellSouth Corporation, SunTrust Banks, Inc., NextEra Energy, Inc. and Rock-Tenn Company.
Brown has served on Stetson's Board of Trustees since 1981, including one term as chair. He is currently chair of the Finance Committee.