Dean Hollis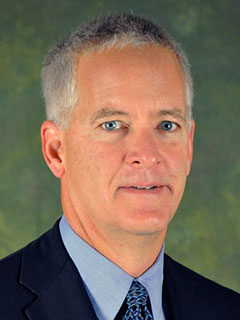 BA '82 (psychology), Pi Kappa Phi
Founder, DiVentures, Inc.
Omaha, NE
Until retiring in 2008, Mr. Hollis was President and Chief Operating Officer, of ConAgra Foods, Consumer Foods. In that role, Mr. Hollis developed and executed a worldwide business transformation strategy, while overseeing the largest part of the ConAgra Foods portfolio, including its $12 billion consumer and customer branded businesses, consisting of over 40 global brands in 110 countries. During his 21 years with ConAgra Foods, he held many executive-level positions, including Executive Vice President, Retail Products; President, Grocery Foods; President, Frozen Foods; President, Specialty Foods; and President, Gilardi Foods. Prior to ConAgra Foods, Mr. Hollis worked with TreeSweet Products and Georgia Pacific, in a variety of sales and marketing positions.
Since December 2008, Mr. Hollis has been a senior advisor for Oaktree Capital, a $100 billion worldwide private equity firm. In July 2019, Hollis was appointed to the advisory board of JBS, USA, a leading U.S.-based global food company, with a diversified portfolio, spanning the protein industry. In May 2018, Hollis was appointed board Chair of Boardriders, a leading action sports and lifestyle company, with popular global lifestyle brands such as Quiksilver, Roxy, Billabong, DC Shoes, RVCA and others. In October 2017, he joined the board of Hain Celestial Group (HAIN), a global leading organic and natural products company, where he currently chairs the board and serves on the Nominating and Governance and Audit Committees. Since October 2016, he has served on the board of SunOpta (STKL), a world-wide leader in healthy foods, specializing in organic and non-GMO products, where he serves as board Chair and on the Nominating and Governance and Compensation Committees.
From 2008, until its sale to Tyson Foods in June 2017, Mr. Hollis served as Board Chair and a member of the Compensation Committee of Advance Pierre Foods (previously APFH), an industry leader in hand-held convenience foods and value-added proteins. From May 2012, until its sale to Snyder's-Lance Inc (previously, LNCE) in February 2016, Mr. Hollis served on the Board of Diamond Foods (previously, DMND), a leading branded snacks supplier, where he served as a member of the Audit and Nominating and Governance Committees. Also, from July 2011, until its sale to Pinnacle Foods (PF) in January of 2016, Mr. Hollis served as Board Chair and a member of the Audit committee of Boulder Brands (previously, BDBD), a leader and innovator in health and wellness foods. From July 2009, until October 2015, Mr. Hollis served on the Board of Landec Corporation (LNDC), a developer and marketer of patented polymer products for food, agriculture and licensed partner applications, where he chaired the Compensation and CEO Search Committees.
Mr. Hollis has several wide-ranging privately held businesses and investments, including franchising, transportation services, early stage food and technology. In 2008, following his life-long passion for retail and aquatics, he founded Diventures, bringing innovative retailing and unparalleled consumer experience to the scuba, swim and travel industry. Diventures currently has five locations in four states.
Mr. Hollis is a 1982 graduate of Stetson University and was the recipient of Stetson's Distinguished Alumni Award in 2005. He has served on the Board of Trustees since 2000, including serving a term as Vice Chair. He currently serves on the Executive Committee. He also serves on the boards of The Nature Conservancy, Caribbean Chapter and Project Harmony.