Susan Perry Brockway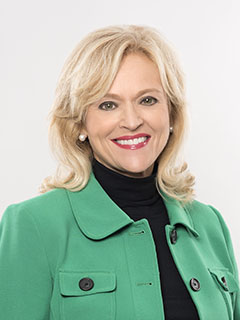 B.BA (accounting), Pi Beta Phi
Boca Raton, Florida
Susan Perry Brockway worked professionally with PwC Coopers & Lybrand in West Palm Beach as a CPA in the audit area and as the financial controller for a Real Estate/Golf Course Developer in Boca Raton. She married Peter Brockway, a fellow Stetson graduate B.BA '78, and they live in Boca Raton where Peter continues to enjoy a 30-year career in private equity. They are the parents of adult daughters Vanessa and Emily.
As a community volunteer, Brockway serves on the Board of Directors of The Community Foundation of Palm Beach and Martin Counties and the Board of Directors of Impact 100 Palm Beach County. She serves as an elder on the governing board of Grace Community Church and as a P.E.O. has supported educational endeavors throughout her adult life. She is a founding member of the Pi Beta Phi Alumnae Club of Boca Raton and is an Angel Mom for Place of Hope. Her volunteer activities have included Saint Andrews School Board of Trustees serving as board chair, Wake Forest University as a member of the College Board of Visitors, The University of Virginia Parents' Fund Committee member and a director of Big Brothers Big Sisters of Palm Beach County.
Brockway was elected to the Board of Trustees in 2017 and currently chairs the Academic Affairs Committee.