Maureen Breakiron-Evans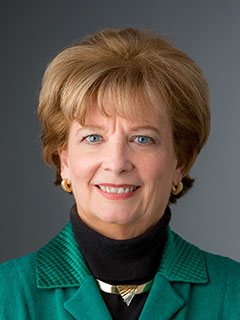 B.BA '76 (Accounting), Pi Beta Phi
Clearwater, Fla.
Maureen Breakiron-Evans is retired from her position of CFO at Towers Perrin, a global professional-services firm. Prior to joining Towers, she was the general auditor and enterprise risk manager at CIGNA Corporation. She has also served in senior executive finance and technology positions at Transamerica Corporation and VISA and as an audit partner with Arthur Andersen in San Francisco.
Breakiron-Evans is a CPA and has an accounting degree from Stetson University and master's degrees from Harvard Business School and Stanford University. She serves or has recently served on the boards of Cognizant Technology Solutions, the Federal Home Loan Bank of Pittsburgh, Heartland Payment Systems, Ally Financial, and Cubic Corporation.
While a student at Stetson, she was a member of Pi Beta Phi sorority. She is a past chair of Stetson's School of Business Administration Board of Advisors. She was elected to the Board of Trustees in May 2013 and currently serves as the Chair of the Board.