Amy R. Rigdon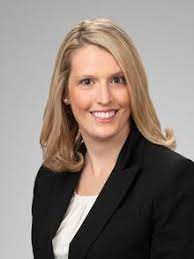 BA '05 (French and Religious Studies), JD '08
Attorney/Partner, Latham & Watkins LLP
Washington, DC

Amy Rigdon is a partner at Latham & Watkins LLP in Washington, D.C. She advises clients on the formation and operation of a variety of traditional and non-traditional private investment vehicles, including private equity funds, co-investment funds, GP-led secondaries, and sponsor arrangements and governance. Ms. Rigdon delivers creative and pragmatic counsel to a variety of participants in the funds space, including private equity firms, established and emerging fund managers, and institutional investors. Her experience ranges across fund types and investment areas, with a particular focus on energy and renewable funds, infrastructure funds, real estate funds and private credit funds.

She regularly speaks and writes on topics related to investment funds, institutional investing and securities issues. She is also a contributing author of a book, Global Investment Funds: A Practical Guide to Structuring, Raising and Managing Funds, published by Globe Law and Business.

Ms. Rigdon has served in several firm leadership roles, including as Co-Chair of the Women Enriching Business Committee in the Washington, D.C. office. She also actively supports a number of nonprofit organizations, including the Legal Aid Society of the District of Columbia. Among her efforts, she served as Co-Chair of the organization's Generous Associate Campaign for several years, raising donations over $1 million for DC Legal Aid. Ms. Rigdon's involvement in this initiative earned her recognition as part of the group that won the Young Lawyers Section of the Bar Association of Washington, D.C.'s 2018 Young Lawyer of the Year award. In 2013, Ms. Rigdon was also awarded the Outstanding Alumni Representative Award from Stetson University College of Law.

She is a "Double Hatter" graduate of Stetson University, BA in 2005 (French and Religious Studies), and Stetson University College of Law, JD in 2008. Ms. Rigdon is a J. Ollie Edmunds Distinguished Scholar and served as captain of the Women's Varsity Crew at Stetson and Editor-in-Chief of Stetson Law Review. She is the past president of the Stetson Law Alumni Association and currently serves on the Board of Overseers of Stetson University College of Law. She was elected to the Board of Trustees in May 2022.
Amy resides in Arlington, Virginia with her husband Gabriel Robertson and their daughter.