Donor Appreciation at SHOWCASE - Continental Breakfast
Join us on Tuesday, April 11, 2023
9:30 a.m., Carlton Union Building | DeLand Campus
Interact with students and see a Stetson education firsthand.
What Is Showcase?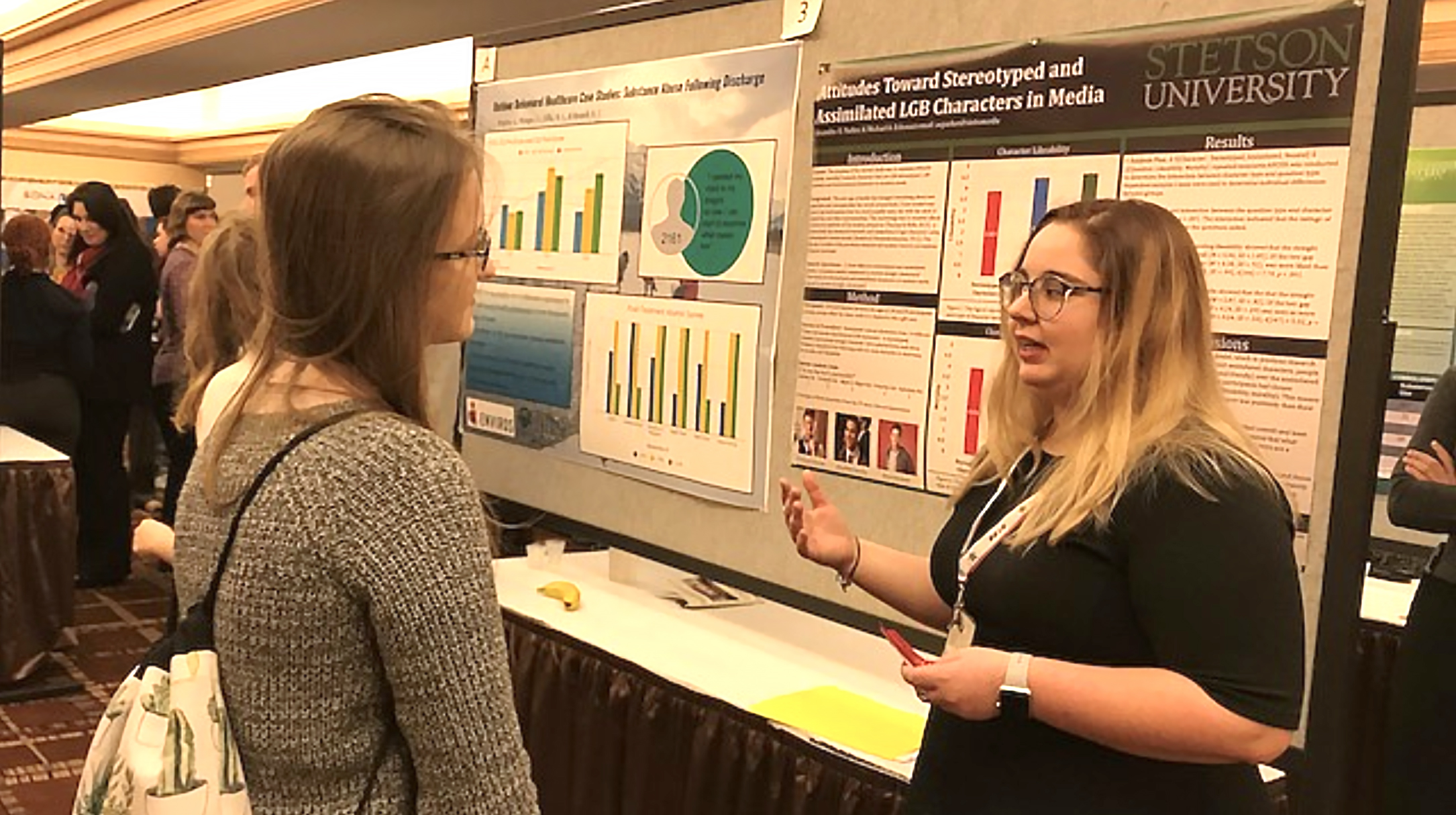 During Showcase last spring, nearly 200 students exhibited their academic prowess in a wide assortment of disciplines at venues across campus. There were morning poster presentations in the Rinker Fieldhouse; oral presentations at Elizabeth Hall, Sage Hall and Flagler Hall; art and digital arts exhibitions at the Homer and Dolly Hand Art Center; musical performances at Lee Chapel; plus much more.
The students prepare their presentations for months with the help of faculty mentors.
Concurrent sessions are held throughout the day — with robust demonstrations of curiosity and intellect evident among students, faculty, staff and campus guests.
Presenters receive the chance to engage with visitors eye to eye.
About This Year's Showcase: Collaboration, Creation, Connection
Navigating today's world requires a multitude of perspectives and interpretations; our ability to connect and collaborate with others in creative ways becomes a core value. This year, Stetson Showcase celebrates the scholars who have pushed the envelope across disciplines and sought partnerships with faculty, peers, community partners and colleagues to take their vision forward.
Location
Staff and Faculty Lounge
Carlton Union Building - Room 105
131 E. Minnesota Ave.
DeLand, FL 32723
Parking for SHOWCASE guests will be located in the DeLand Hall parking lot, right in front of the Rinker Welcome Center. Follow the signs to find your reserved spot. You can follow Google's driving directions to campus or, if using a GPS, enter "421 N. Woodland Boulevard, DeLand, FL."
Schedule
9:15 a.m.
Doors Open, Check in, Receive Showcase Program
9:30 a.m.
Continental Breakfast
10:15 a.m.
Presidential Remarks
10:30 a.m. - noon
SHOWCASE Poster Session Presentations at Rinker Field House
More information about the program and parking forthcoming on this site.
In conjunction with Showcase, Donor Relations offers you the opportunity to meet your scholarship recipient before the end of this semester.
If you are part of the Stetson Leadership Society, have an established scholarship, and would like to meet your students, please contact Director of Donor Relations Brian Piazza directly at [email protected] or 386-822-4259.