Institute for Biodiversity Law and Policy
Stetson's Institute for Biodiversity Law and Policy serves as an interdisciplinary focal point for education, research and service activities related to global, regional and local biodiversity issues. The institute coordinates courses, seminars and internships on a variety of topics, including wetland law and policy, environmental law, natural resources and international environmental law.
In addition to hosting international conferences and speakers, Stetson is home to the annual International Environmental Moot Court Competition, now in its 16th year, with preliminary competitions around the globe. Stetson has sponsored the International Wildlife Law Conference since 2007.
Professor Royal Gardner serves as the institute's director and is past chair of the U.S. National Ramsar Committee, which supports the goals of the Ramsar Convention on Wetlands.
J.D. Certificate of Concentration
Stetson now offers a Certificate of Concentration in Environmental Law for select J.D. students. To earn the certificate, students must complete an approved experiential learning opportunity, participate in a mentoring component, fulfill pro bono service and writing requirements in environmental law, and complete at least 21 hours of prescribed environmental law courses with an average grade point average of at least 3.0. Certificate students also support the Stetson International Environmental Moot Court Competition, International Wildlife Law Conference and other Biodiversity Institute activities. » More information
Recent News
Students and Professor Help Write Supreme Court Amicus Brief
Stetson students Marc Shumaker and Erin Okuno and Professor Royal Gardner worked with the National Wildlife Federation to prepare an amicus brief in a wetlands case heard by the U.S. Supreme Court.
» Read more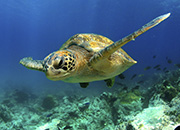 Sea Turtle Course:
May 27-30, June 2-3
This summer, Stetson will offer a special course on sea turtles, "Topics in Biodiversity Law: Sea Turtles," in conjunction with its hosting of a meeting of the Inter-American Convention for the Protection and Conservation of Sea Turtles in June.