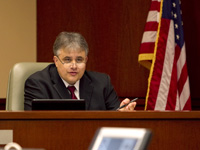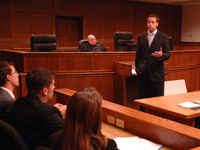 2014 Educating Advocates: Teaching Advocacy Skills
May 20-22, 2014

Stetson University College of Law
Gulfport, Fla.
Stetson's annual Educating Advocates: Teaching Advocacy Skills conference will take place Tuesday-Thursday, May 20-22, 2014, on our beautiful campus in Gulfport, Fla. This year's theme is "Advocacy Programs in the Incredible Shrinking Law School." Attendees will spend three days developing their teaching skills, learning new techniques, and networking with some of the most recognized names in advocacy teaching. Everyone will leave well-equipped to empower their students to become better advocates.
We will continue our practice of inviting vendors to update you on the latest developments in advocacy-related products and teaching materials. The vendors will be available to answer any questions.
Stetson annually celebrates the contributions of a member of our legal profession with the Lifetime Achievement Award for Excellence in Teaching Advocacy. We will present the award during a dinner on the second evening of the conference. Check back for more information on who will be honored in 2014.
---

What Participants Have Said:
"The Stetson Advocacy Program combines a level of whole faculty commitment with student enthusiasm which makes it the envy of nearly all other skills instructors that I have met and worked with in the USA, in Australia, in Malaysia and in Japan."
-Hugh Selby, Law Faculty, Australian National University

"I am not aware of any other program where you can spend a day as a trial advocacy instructor being critiqued on your critiquing...it was wonderful. Excellent."
-David Aaronson, Director, Trial Advocacy Program, American University

"This should be a required course for anyone teaching advocacy."
-Amelia Michele Joiner, Professor, Duquesne University School of Law