About Stetson Law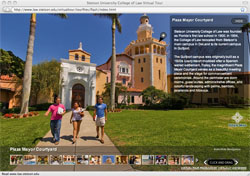 Explore the sights and sounds of Stetson University College of Law's Gulfport and Tampa campuses.
Florida's First Law School
Stetson University College of Law has educated outstanding lawyers, judges and community leaders for more than a century. Stetson Law is ranked first for trial advocacy and fifth for legal writing by U.S. News & World Report.
The law school's main campus is in Gulfport, a beachfront community adjacent to St. Petersburg, and the Tampa Law Center satellite campus is located less than one mile from downtown Tampa.