Meet our faculty...
The Physics Department here at Stetson University is composed of five Ph.D. level physicists whose specialties include acoustics, astronomy, biophysics, magnetics, nanotechnology, and solid state physics.
Our faculty value teaching undergraduate students and have chosen to teach at Stetson so that they may do so.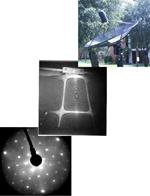 Kevin Riggs, Ph.D.
Professor of Physics
Department Chair & Pre-Engineering Advisor
kriggs@stetson.edu
Dr. Riggs' professional interests are twofold and include the magnetic properties of thin films and also musical acoustics and vibrational holography. He keeps two research labs running as he follows these two paths.
Dr. Riggs teaches a course on acoustics for non-science majors: The Science of Music. For our majors he teaches most of the advanced upper division courses. He is also the advisor for all students interested in pursuing a career in engineering.

When he's not working on physics, Dr. Riggs can be found engulfed in current events on the web or playing his electric guitar or his banjo. In fact, after hours, he and other faculty can be found having band practice in the Thin Film Magnetism Lab.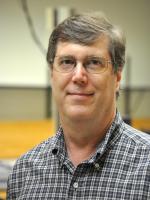 George Glander, Ph.D.
Professor of Physics
Associate Dean of the College of Arts & Sciences
gglander@stetson.edu
Dr. Glander's professional interests lie in LEED (low energy electron diffraction), and is actively involved in cutting edge research involving Kikuchi electron diffraction.
Dr. Glander teaches the introductory series, University Physics, for our majors (PHYS 141/142), and his favorite upper-division course is Thermophysics.

When he's not on campus, Dr. Glander's favorite activity is working on improvements around his house, something which might be described as a practical application of the physics and engineering theories he teaches.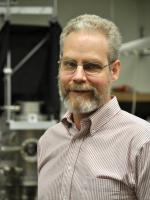 Danielle Morel, Ph.D.
Assistant Professor of Physics
dmorel@stetson.edu
Dr. Morel's professional interests and expertise are in biophysical modeling of neuron function.

Dr. Morel teaches two versions of our popular physics-for-non-majors courses, Astronomy - one on stellar astronomy and the cosmos, and one on the Solar System. Additionally, she anchors the physics majors' math foundation with the Mathematical Methods in the Physical Science course, as well as teaching upper-division physics courses including Modern Physics and Mechanics I.

In her free time, Dr. Morel enjoys photographing birds and tracking the progress of fledglings in bird webcams.
Allan Thomas, Ph.D.
Visiting Assistant Professor of Physics
amthomas@stetson.edu
Dr. Thomas recently received his Ph.D. from the University of Arkansas at Little Rock with research interests in optoelectronics, wide bandgap semiconductors, and nanotechnology.
Dr. Thomas teaches our College Physics sequence, an algebra-based introduction to physics targetted at non-physics science majors, particularly those who want to pursue a career in a health profession. He also teaches several upper-division physics courses.
When not on campus, Dr. Thomas enjoys golfing and spending time with his wife.
Larry Ramsey
Machinist
As our full-time machinist, it's Larry's responsibility to keep all our equipment in peak condition. He assists at every stage, ranging from the installation of new equipment to the repair of older equipment. He also is instrumental in facilitating projects in the lab when specialized equipment is required. Working with our faculty, he will produce customized pieces as needed to keep a research project going.

Larry's favorite hobby is the restoration and maintenance of classic ca