Meet our faculty...
Our faculty value teaching undergraduate students and have chosen to teach at Stetson so that they may do so.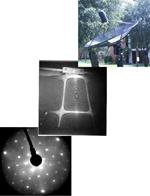 Kevin Riggs, Ph.D.
Professor of Physics
Department Chair & Pre-Engineering Advisor
kriggs@stetson.edu
Dr. Riggs' professional interests are twofold and include the magnetic properties of thin films and also musical acoustics and vibrational holography. He keeps two research labs running as he follows these two paths.
Dr. Riggs teaches a course on acoustics for non-science majors: The Science of Music. For our majors he teaches most of the advanced upper division courses. He is also the advisor for all students interested in pursuing a career in engineering.

When he's not working on physics, Dr. Riggs can be found engulfed in current events on the web or playing his electric guitar or his banjo. In fact, after hours, he and other faculty can be found having band practice in the Thin Film Magnetism Lab.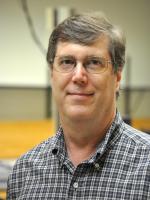 George Glander, Ph.D.
Professor of Physics
Associate Dean of the College of Arts & Sciences
gglander@stetson.edu
Dr. Glander's professional interests lie in LEED (low energy electron diffraction), and is actively involved in cutting edge research involving Kikuchi electron diffraction.
Dr. Glander teaches the introductory series, University Physics, for our majors (PHYS 141/142), and his favorite upper-division course is Thermophysics.

When he's not on campus, Dr. Glander's favorite activity is working on improvements around his house, something which might be described as a practical application of the physics and engineering theories he teaches.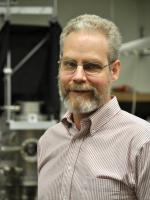 Fred Hall, Ph.D
Visiting Assistant Professor

Fred Hall grew up in Xenia, Ohio (located near Dayton in southwest Ohio). He earned a bachelor of science degree in physics (with a concentration in astronomy) from the Honors Tutorial College of Ohio University (in Athens, Ohio) in 1991, a master of science degree in plasma physics from the University of Colorado at Boulder in 1995, and a doctorate in space physics from the University of Alaska Fairbanks in 2006. After teaching briefly at Central State University (in Wilberforce, Ohio), Hall spent two years as a postdoctoral fellow at the University of North Carolina at Chapel Hill, from 2007 to 2009. Hall also taught at Embry-Riddle Aeronautical University and Bethune-Cookman University (both in Daytona Beach, Florida) before joining the physics department of Stetson University, first as an adjunct instructor and now as a visiting assistant professor. His research concerns the use of theory and numerical simulation in modeling dynamical processes in Earth's magnetosphere (the region of space dominated by Earth's intrinsic magnetic field). Hall also has a long-standing interest in space exploration, including the physics of (robotic and human-tended) spaceflight, space policy and space advocacy. His interests also include STEM (Science, Technology, Engineering and Mathematics) education and outreach.
Thomas Vogel, PhD
Visiting Assistant Professor of Physics
thomas.vogel@stetson.edu
Dr. Vogel received his Ph.D. from Leipzig University in Germany and has held postdoctoral positions at the Juelich Research Center, the University of Georgia, and Los Alamos National Laboratory. Dr. Vogel is a computational physicist working in the fields of statistical physics, biologically motivated soft-matter systems, and materials science with emphasis on nanotechnology. A main aspect of his work is the development of cutting-edge simulation algorithms to facilitate his research.
He recently published research on the adsorption of polymers on carbon nanotubes – structures which are promising candidates for next-generation nano-materials with unimagined new behaviors – and on the nano-structure evolution of metallic crystals exposed to radiation of light atoms, a process anticipated to hinder the efficient operation of fusion generators for potential energy production in the future.
Larry Ramsey
Machinist
As our full-time machinist, it's Larry's responsibility to keep all our equipment in peak condition. He assists at every stage, ranging from the installation of new equipment to the repair of older equipment. He also is instrumental in facilitating projects in the lab when specialized equipment is required. Working with our faculty, he will produce customized pieces as needed to keep a research project going.

Larry's favorite hobby is the restoration and maintenance of classic ca