Joe R. Cooper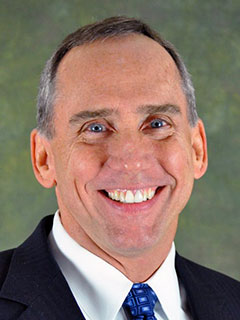 BBA '79 (accounting), MBA '82, Sigma Phi Epsilon
Past President, Big Lots Canada, Inc.; Executive Vice President, Big Lots, Inc.
Retired - Naples, Florida
Joe Cooper is the past President of Big Lots Canada and Executive Vice President of Big Lots, Inc. Joe's career also included positions with KPMG Peat Marwick, The Limited Inc. and KinderCare Learning Centers. He started with Big Lots in 2000 in Columbus, Ohio, as vice president of strategic planning and investor relations. He was promoted to senior vice president and CFO in February 2004 and to executive vice president and CFO in March 2010. In July 2011, Joe was named president of Big Lots Canada when Big Lots acquired Liquidation World based in Brantford, Ontario.
Joe is a CPA and member of the AICPA, and he is also a member of Stetson University's chapter of Beta Alpha Psi. In April 2016, Joe was inducted as a member of the inaugural class of the Stetson University Accounting Hall of Fame. Joe was named CFO of the Year: Public Company Honoree in September 2010 by the Business First publication in Columbus, Ohio. Joe's wife, Cindi Tidwell Cooper, also graduated from Stetson, receiving her BBA degree in 1982. Joe and Cindi have four grown children.
Following Joe's retirement in April of 2014, he and Cindi relocated and now live in Naples, Florida. Joe served on Stetson's School of Business Administration Board of Advisors, and he was elected to the Board of Trustees in May 2011. Joe currently serves on the Executive Committee and as chair of the Athletics Committee.