Zoom
Do I have a Zoom license?
Yes! Zoom offers two license types:
Unlimited - host meetings longer than 40 minutes
Basic - host meetings up to 40 minutes
Please note, you do not need a Zoom license to attend meetings.
All faculty and staff have a Stetson-issued Unlimited Zoom license. All students have a Stetson-issued Basic Zoom license. Students may request a temporary Unlimited Zoom license (for special events) through Student Affairs.
How do I sign in to Zoom with my Stetson credentials?
Signing in to Zoom with your Stetson credentials allows you to save your custom settings and enter meetings with all of your information pre-configured. Your Stetson contact photo, email and phone number will be displayed in all of your meetings, ensuring a professional appearance.
From the web:
Visit https://zoom.stetson.edu and log in using your Stetson email address and password.
Select the appropriate option (Join, Host, or Sign In), then follow the prompts.

Join - you will be asked for a Meeting ID or Personal Link Name to join a meeting.
Host - this will launch the Zoom app.
Sign In - the Zoom web page will open, and you can update your account and settings as needed.
Using the Zoom app:
Launch the Zoom app, click Sign In, and select SSO.
Enter stetson-edu for the Company Domain, then enter your email address and password when prompted.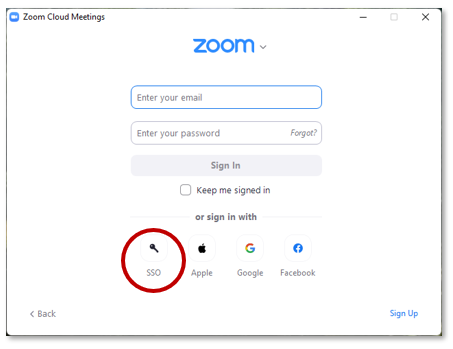 What is Zoom-Bombing?
Visit our Zoom Bombing Prevention site to learn more about Zoom Bombing and how to stop it.
Where can I learn more about Zoom?
Check out the Zoom Support site for answers to your questions about Zoom. You may also contact Media Services at [email protected], or Information Technology at [email protected].