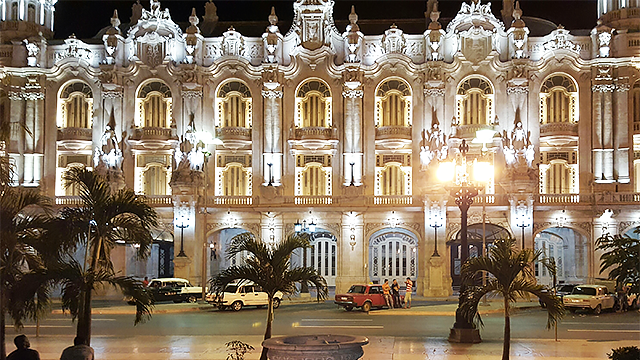 Spring Break in Cuba
Trip to Havana, Cuba: March 11-15, 2019
Twelve Stetson Law students will be selected to participate in the Spring Break study abroad program in Cuba. The class will be held in the Spring semester once per week, culminating in the five-day, four-night trip to Havana, Cuba from March 11-15, 2019. One additional class meeting will be held after returning from Cuba, and a 10-15-page reflection paper will be required to earn credit for this course.
The Spring Break in Cuba study abroad program is only available to 2L and 3L Stetson students.
This trip does not allow for family members to accompany students.
The Cuban Legal System and Society (1 credit)
Instructor: Associate Dean Darryl Wilson
This course will give law students the opportunity to study the historical underpinnings of the Cuban legal system and society, including gaining an understanding of the current legal system in Cuba. Students will gain a substantive understanding of Cuban laws, US-Cuba policy, Cuban society, and current legal issues relating to Cuba. This will include the following:
A comparative perspective on US and Cuban law that includes a comparison of the common law with civil law
A study of the evolution of the legal profession and law in Cuba that will trace the history from the time before the Cuban revolution until the reforms of 1973 that banned private legal practice and required lawyers who wanted to practice to join legal collectives
Understanding the role of "lay judges" who serve beside professional judges in Cuba's civil code system
Studying the change in Cuban laws brought about by the downfall of the Soviet Union that eventually led to the Constitutional amendments of 1992, which legislated for the first time that individuals could own private property and provided a non-discrimination clause based on religion but still kept a fairly firm control on Cuban society
Studying the development of Cuban society from before the revolution up to present day – including the underground that has developed as access to the Internet has grown
Studying the human rights violations that are alleged to occur in Cuba.
Studying the possibility for future economic development in Cuba.
Important Dates
Application Deadline: November 15, 2018
Tuition and Housing Fees Due: November 30, 2018
Program Dates: March 11-15, 2019
Deposit and Tuition Refund
A participant's application fee ($50) in the Spring Break in Cuba study abroad program requires an accompanying deposit of $300; the deposit ($300) is applied to a participant's final invoice. Once an applicant has been accepted, the deposit is nonrefundable.
Tuition for this program is in addition to the normal full-time Spring tuition rate. Please see the Student Budget for more information.
Students are obligated to pay tuition and housing as of November 30, 2018. Any attempt to withdraw from the program after that date will not discharge the student's obligation for payment of the tuition and housing.