Judith A.M. Scully
Professor of Law
B.A., University of Chicago
J.D., George Washington University National Law Center
Phone: 727-562-7382
Email: [email protected]
Office: DA-202 (Gulfport)
Courses
Criminal Law, Criminal Procedure, Trial Advocacy, Advanced Criminal Trial Practice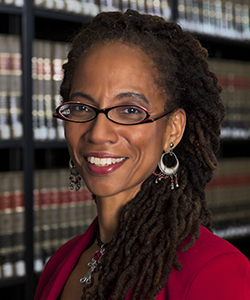 Professor Judith A.M. Scully joined Stetson after serving for one year as a visiting professor from West Virginia University College of Law, where she taught since 1996. Professor Scully is co-founder of Stetson's Innocence Project, a collaboration with the Innocence Project of Florida that began in 2009. She teaches Criminal Law, Criminal Procedure, Trial Advocacy, and Advanced Criminal Trial Practice, as well as seminars related to race and American law and international human rights.
Prior to teaching law, Professor Scully managed her own law firm in the City of Chicago where she primarily represented defendants in criminal cases and plaintiffs in Section 1981 and 1983 civil rights cases. She has also served as an arbitrator for the Circuit Court of Cook County, an administrative law judge for the Cook County Commission on Human Rights, and the deputy director of the City of Chicago Board of Ethics.
She is a passionate advocate for racial justice as well as reproductive health and justice in the United States and abroad. She has written several articles on eugenics, forced sterilization initiatives, and contraceptive abuse. Her work on reproductive rights has been presented at various international forums including the International Women's Health and Human Rights Meeting in New Delhi, India; the 8th International Women's Health Conference in Brazil; and the United Nations World Conference on Women in Beijing.
In 1990, as a member of the National Conference of Black Lawyers, Professor Scully worked with the African National Congress (ANC) to help draft the constitution for a Free and Democratic South Africa. Her suggestions for the protection of women's reproductive rights served as the basis of South Africa's constitutional provision guaranteeing a woman's right to reproductive choice.
Her scholarship has appeared in the Wisconsin International Law Journal, Columbia University Law School's race law journal, the UCLA Women's Law Journal, the Toledo Law Review, the Encyclopedia of American Civil Liberties, and the Encyclopedia of the United States Supreme Court.