Cynthia G. Hawkins
Professor of Law
B.A., Wellesley College
J.D., Harvard University
Phone: 727-562-7885
Email: [email protected]
Office: DA-200 (Gulfport)
Courses
Adoption Law & Policy, Family Law, Family Law Mediation and Professional Responsibility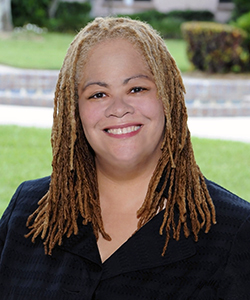 Biography
Professor Hawkins teaches and writes in the area of family law, with a specialty in adoption law. She is the faculty coordinator for the Family Law Internship Program.
She was an associate professor at New England School of Law (Boston, Mass.) from 2000-2002. Previously, she was an associate professor at Syracuse University College of Law and an assistant professor at Duquesne University School of Law (Pittsburgh, Pa.). She is a full, tenured professor at Stetson.
Prior to joining the academy, she served as an administrative/magistrate judge for the Contract Appeals Board in Washington, D.C., as general counsel for the District of Columbia Department of Administrative Services, and as committee counsel and staff director for the Committee on Government Operations of the Council of the District of Columbia.

Professor Hawkins has written articles on topics that include Florida's ban on "lesbi-gay" adoption; transracial adoption; the expansion of kinship care and adoption as a solution to the U.S. foster care and adoption crises; the adoption crisis facing African-American families and potential solutions through application of the Indian Child Welfare Act; the history of the insanity defense and its fictional application as analyzed using the "literature as law" approach, a phrase she has coined; and a comparison of the Socratic and problem methods in legal education.

Professor Hawkins is the past chair of the AALS Women in Legal Education section. She is also an executive board member for the Florida Chapter of the Association of Family and Conciliation Courts. Professor Hawkins is also an active member of the St. Petersburg Bar Association and an affiliate member of the Florida Bar Association. She is admitted to practice law in Pennsylvania and Washington, D.C.