Faculty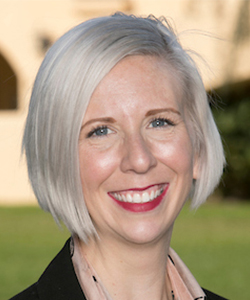 Ashley Krenelka Chase
Associate Director of the Law Library, Coordinator of Legal Practice Technology, and Instructor in Law
B.A., Bradley University
M.A., University of South Florida
J.D., University of Dayton School of Law
Phone: 727-562-7311
Email: [email protected]
Office: Library (Gulfport)
Ashley Krenelka Chase has many roles at the College of Law. She is currently the associate director of the Dolly & Homer Hand Law Library and assists in the planning, developing and evaluating of circulation and reference activities and initiatives.
Chase has also been an Instructor of Law since 2015 and responsible for creating the Advanced Legal Research course, which is specifically tailored for the education of "electronic-first" law students. She teaches students how to perform traditional legal research, as well as more in-depth research that, while not traditionally "legal," is helpful in the practice of law.
Since 2016, she has served as the Coordinator of Legal Practice Technology, working with faculty to identify technology competencies for incoming and outgoing students and to ensure student success during law school and in the practice of law. She also coordinates with faculty on workshops and a Technology in Practice course to determine how to best incorporate legal practice technology into individual classes.
Featured Publications
This Article examines net neutrality and its impact on criminal defendants' ability to access the courts—and justice—through access to legal information. Research in the American legal system has moved largely online, and print resources are becoming increasingly expensive and, therefore, more scarce.
This article discusses Holloway and Friedland's vision of the law school of 2025, with a focus on the need for technology education and a cultural shift in the legal Academy and the law school curriculum.
Chase graduated in 2009 from the University of Dayton School of Law and is member of the Florida Bar. She received a Master of Arts in Library and Information Science in 2011 from University of South Florida. In 2014, she was a graduate of the Leadership Institute for Academic Librarians from Harvard University Graduate School of Education and has her Bachelor of Arts in English from Bradley University, where she graduated cum laude.
Chase was an American Association of Law Libraries Emerging Leader in 2017. She is currently on the Legal Research Teach-In Committee for the American Association of Law Libraries, Research Instruction & Patron Services Special Interest Section and serves on multiple committees for the College of Law.