Ashley Krenelka Chase
Assistant Professor of Law
B.A., Bradley University
M.A., University of South Florida
J.D., University of Dayton School of Law
Phone: 727-562-7311
Email: [email protected]
Office: Library (Gulfport)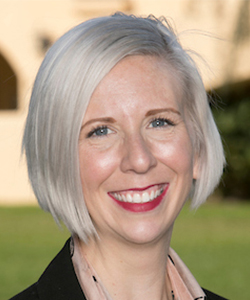 Biography
Professor Ashley Krenelka Chase currently teaches legal research and writing, after nearly a decade of teaching advanced research and technology courses.
Previously, Ashley was the Associate Director of the Dolly & Homer Hand Law Library the Coordinator of Legal Practice Technology at Stetson, where she worked with faculty to identify technology competencies for incoming and outgoing students and to ensure student success during law school and in the practice of law. Ashley's scholarship focuses on the intersection of research, technology, and access to justice for incarcerated litigants.
Professor Chase received her B.A. degree from Bradley University, her M.A. from the University of South Florida, and her J.D. from the University of Dayton School of Law.
Featured Publications
This Article examines net neutrality and its impact on criminal defendants' ability to access the courts—and justice—through access to legal information. Research in the American legal system has moved largely online, and print resources are becoming increasingly expensive and, therefore, more scarce.
This article examines the legal evolution of access to information for incarcerated litigants and the role that access to the internet, libraries, and "ownership" of the law play in providing access to the Courts under decades of precedent. It then discusses the Supreme Court's jurisprudence regarding the way technology has changed American behavior, including access to the internet, and how that significant shift in behavior is impacting incarcerated litigants. It concludes by offering a hopeful – and significantly more fair – approach to providing inmates access the courts and, therefore, true access to justice, without exploiting them in the process.