Alicia R. Jackson
Assistant Professor of Law and Director of Academic Success and Bar Preparation
B.S., Grambling State University
M.P.A., Grambling State University
J.D., Nova Southeastern University, Shepard Broad College of Law School
Phone: 727-562-7894
Email: [email protected]
Office: (Gulfport)
Courses
Family Law, Juvenile Law, Multistate Law, and Survey of Florida Law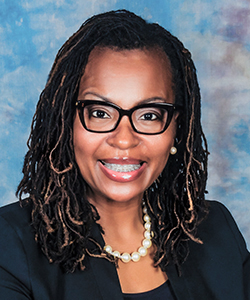 Biography
Alicia Jackson is a member of the law faculty at Stetson University College of Law and is serving as the Director of Academic Success and Bar Preparation Services.
She previously served as the Associate Dean for Student Learning and Assessment at Florida A&M University College of Law (Florida A&M). Before her associate dean appointment, Professor Jackson served as the Director of Academic Success and Bar Preparation, where she developed a multifaceted academic support program that began during new student orientation and continued through the bar exam. Professor Jackson has taught Criminal Law, Family Law, Juvenile Law, Multistate Law, Survey of Florida Law, and various analytical skills courses.
Prior to Florida A&M, Professor Jackson served in various professor and instructor roles at Nova Southeastern University, including in the College of Arts and Sciences as a chairperson, Shepard Broad College of Law, and the Criminal Justice Institute, where she taught Ph.D. courses in Criminal Law and Individual Rights and Criminal Justice Administration. Professor Jackson regularly serves as a panelist or presenter at various conferences, including conferences hosted by the American Bar Association (ABA), Association of American Law Schools (AALS), Institute for Law Teaching and Learning (ILTL), Southeastern Association of Law Schools (SEALS), Society of American Law Teachers (SALT), Association of Academic Support Educators (AASE), and others.
Before embarking on her academic career, Professor Jackson practiced law in the areas of Estate Planning, Business, Family, and Personal Injury law. She was a Florida Supreme Court certified County Court Mediator. Professor Jackson also held leadership positions in initiatives with Florida law enforcement agencies, including as coordinator of the Florida Office of Drug Control's Underage Drinking Community Trials Initiative with the Fort Lauderdale Police Department and as the executive director of a U.S. Department of Justice Office of Juvenile Justice and Delinquency Prevention Program with the Broward Sheriff's Office.
Professor Jackson is a member of the Florida Bar and the Bar of the United States Supreme Court.
Featured Publications
This article will connect multiple formative assessments to Bloom's taxonomy to demonstrate how law teachers can transform and enhance student learning, while promoting key steps in the self-regulated learning cycle.
The demographics of law schools are changing and women make up the majority of law students. Yet, the demographics of many law faculties do not reflect these changing demographics with more men occupying faculty seats. In legal education, women predominately occupy skills positions, including legal writing, clinic, academic success, bar preparation, or library.