Eleazer Courtroom
Access and Justice for All™
Virtual Tour of the Eleazer Courtroom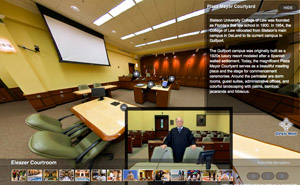 Stetson Law's virtual tour of the Eleazer Courtroom offers a 360-degree view of the Eleazer Courtroom with eight multimedia hotspots describing the courtroom's features.
About the Eleazer Courtroom
The Eleazer Courtroom is the first courtroom in the nation designed specifically with the needs of elderly people in mind, and it serves as a national model for improving courtroom access.
The courtroom is designed to provide access to people who are elderly or who have disabilities. The elder-friendly facility offers the latest in technology, including electronic evidence displays, cameras, microphones and speakers for observing court participants and jury deliberations.
The courtroom was dedicated in honor of Professor William R. Eleazer on Sept. 16, 2005. For 20 years, William R. Eleazer inspired and led a generation of trial lawyers and through his tireless efforts made Stetson the powerhouse in law school advocacy education that it is today.
Features include:
Carpeting designed to give visual clues for those with visual impairments -- a border along the edge in a color different from the carpet, with diamond insets marking each row to give a visual clue regarding seats
Rounded corners on all tables and desks
Sturdy chairs with locking wheels and firm arms
Easily accessible witness box at floor level with no steps
Ramp to judge's bench inside judge's chambers, so judge in wheelchair can ascend bench without being observed
Podium that is electronically height-adjustable, with electronic side shelves or wings for those in a wheelchair and with limited upper body mobility
Use of technology to enhance accessibility of participants -- including flat panels in gallery and hearing amplification devices
Non-glare, non-buzz lighting
Color picked to enhance vision of elders
Courtroom participants are able to move about the courtroom without highlighting physical limitations
---

Director's Message
"This is the only courtroom in the country designed specifically with the needs of elderly parties in mind. Everyone deserves to have as much physical access to the courts as possible. This courtroom will serve as a model for courts building or remodeling their courtrooms. With this courtroom, we show how to design a courtroom in such a way as to provide maximum access to elders and people with disabilities. We are very excited about the opportunities presented by such a courtroom."
Rebecca Morgan
Director of Stetson's Center for Excellence in Elder Law
Boston Asset Management Faculty Chair in Elder Law
About William R. Eleazer

Distinguished Professor of Law Emeritus William R. Eleazer joined Stetson University College of Law in 1979 after a distinguished career with the U.S. Marine Corps and the 5th Judicial Circuit of Florida. He taught criminal law courses including evidence, trial practice and the
prosecution clinic until he retired from full-time teaching in 1999.
Professor Eleazer rose to the rank of colonel with the Marines. He served in a number of legal positions, such as military judge and staff judge advocate, and as an unrestricted officer in various command and staff assignments at home and abroad. He received numerous military decorations, including the Bronze Star with Combat "V," Legion of Merit, Korean Service Medal and Vietnam Campaign Medal.
Professor Eleazer joined the State Attorney's Office after his military retirement in 1978, serving as an assistant state attorney and felony prosecutor with the 5th Judicial Circuit for a year before coming to Stetson. He is the co-author of Florida Criminal Trial Practice, Florida Evidence Courtroom Manual and other scholarly work.