Pride Month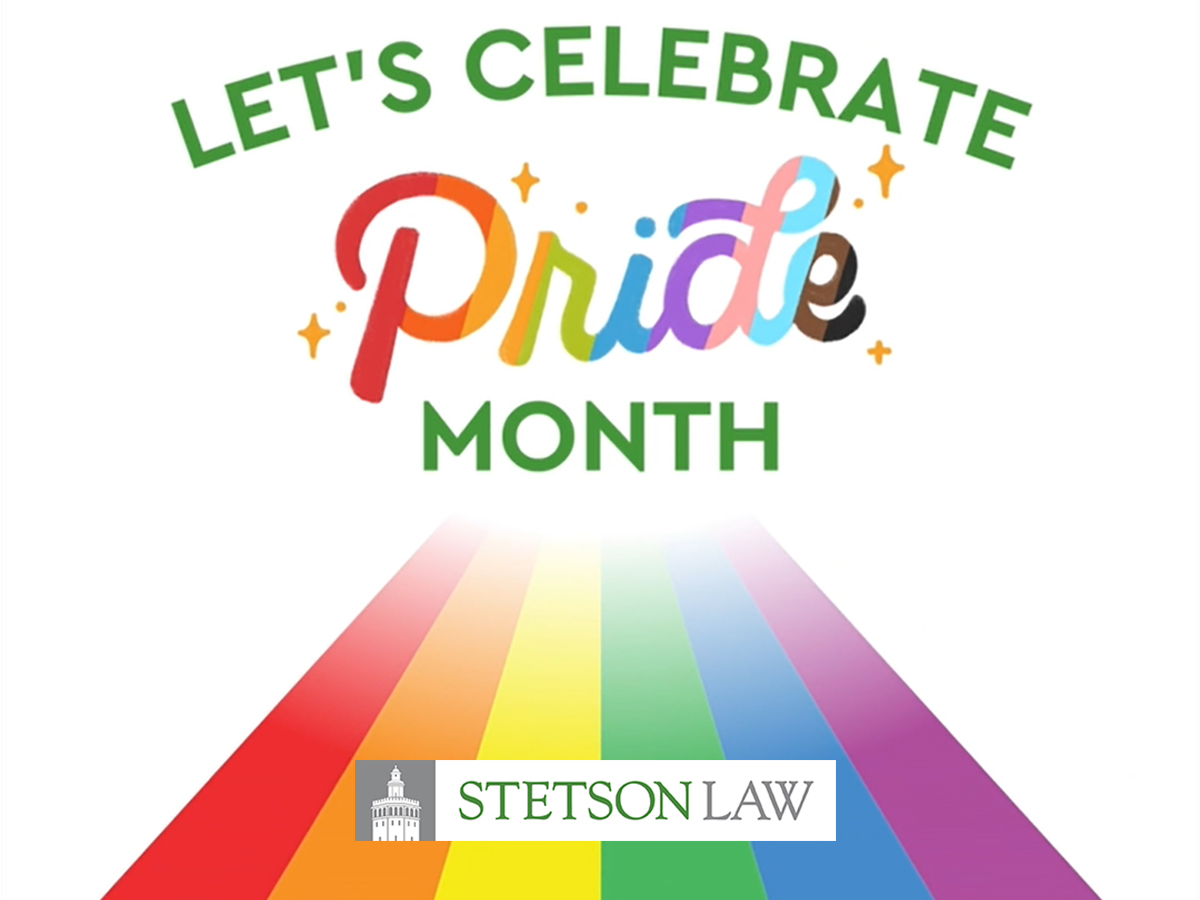 Pride Month is celebrated each June to celebrate and commemorate LGBTQ+ pride. Pride Month began after the Stonewall riots, a series of gay liberation protests in 1969, and has since spread to a global celebration.
As a community of learners and advocates for justice and equality, Stetson University College of Law is honored to provide students, faculty, and staff with a resource to learn and celebrate the accomplishments of the LGBTQ+ communities. In addition to joining this national celebration, Stetson Law invites you to explore this community resource page and participate in the St. Petersburg Pride Parade with Stetson Law's Lambda Legal Society.
While this page is the result of a collaborative effort, it is not a comprehensive resource. We encourage students, faculty, and staff to explore other resources and to feel free to share those that may add to the richness of this page. Please email any insights to [email protected].
Events | Learn | Engage | Resources
---
Events
The City of St. Petersburg
June 10│ 10 am-2 pm │ North and Straub Park
Guests will enjoy free family-focused activities, vendors, and main stage performances.
The City of St. Petersburg
June 24 │ 2 pm-10 pm │ The Parade route will run from Albert Whitted Park to Vinoy Park along Bayshore Drive
Lambda Legal Society and Stetson Law invite students, faculty, and staff to participate in the St. Pete Pride Parade and Trans March. Join in fellowship with members of the LGBTQ+ community through your participation. No tickets are necessary. Please register to be in the parade with Lambda for a chance to get a limited-edition Lambda Pride t-shirt.
The City of St. Petersburg
June 25│ 12 pm-5 pm │ Grand Central District
Enjoy block after block of entertainment, vendors, food, community partners, and interactive carnival games. With street performers and hundreds of participating businesses and organizations, there will be something for everyone.
---
Learn
Supporting the Transgender People in your Life
American Bar Association
ABA highlights how to be a good ally to the transgender community
Terminology and Concepts
LGBTQ+ Glossary
Human Rights Campaign
A resource for LGBTQ+ key terms
There are many different Pride Flags to represent the many facets of the LGBTQ+ community. This video introduces a few of them (BBC London, 2019).
Pride Month: Perspectives on LGBTQ Native Americans in Traditional Culture
The Smithsonian
Individuals from various indigenous communities share how LGBTQ people were regarded in their traditional culture
How did Pride Become a Parade?
How did the Pride Parade come to be? (Public Broadcasting Company, 2021) (Duration 7:59)
Civil Rights History
Important LGBT United States Supreme Court Decisions
The American Bar Association
Dive into the Supreme Court decisions that shaped the LGBTQ+ civil rights movement
LGBTQ+ Pioneers and Advocates
LGBTQ+ Trailblazers in the Legal Profession
The American Bar Association
Learn more about the LGBTQ+ trailblazers who have shaped the advancement of human rights in the United States in their communities
LGBTQ+ Veterans
Veteran Affairs
The VA has curated articles, videos, and resources for LGBTQ+ veterans
Terminology
A Guide to Gender Identity and Pronouns
The National Broadcasting Radio
Dive into this glossary of terms relating to gender identity with the goal to help people communicate accurately and respectfully with one another
Stetson Law LGBTQ+ Advocate Spotlight
Lei-Lani Rogers and Hunter Wolf
Stetson Law
Lei-Lani and Hunter have provided thoughtful programming to the Stetson Law community
Nathan Bruemmer
Stetson Law
Nathan Bruemmer spent 20 years advocating for equality and social justice before coming to law school. After graduating from Stetson University College of Law in 2017, read how he prepared for his next role as an advocate.
Diversify your Bookshelf
Out and About: The LGBT Experience in the Legal Profession
The American Bar Association
This book is a compilation of stories about the experiences of lesbian, gay, bisexual, and transgender attorneys, academics, and jurists in the profession, through their own words.
Queer Jew­ish Nar­ra­tives (LGBTQIA+ Reads)
Jewish Book Council │The American Bar Association's 21-Day Challenge
The American Bar Association highlighted this list of Queer Jewish Narratives curated by the Jewish Book Council as part of their 21-Day Pride Month initiative.
---
Engage
LGBTQ+ Webinar and CLE Programs
The American Bar Association
Visit the links to watch videos of webinar programs sponsored by the American Bar Association's Commission on Sexual Orientation and Gender Identity
Trans Awareness for Legal Professionals: Why it Matters and Tools to Help
Get a closer look at the toolkit developed by the DISCLOSURE Impact team for lawyers, judges, and others in the legal system, and hear from trans leaders advocating for the advancement of civil rights for the LGBTQ+ community (The American Bar Association, 2020) (Duration 1:27:21)
Pride at Stetson Law
Stetson Law Progress Pride Flag Raising
Stetson College of Law Lambda Legal Society made history with the inaugural raising of the Progress Pride flag.
---
Resources
Stetson Law's Lambda Legal Society - Learn more
Stetson University Kaleidoscope - Learn more

The City of St. Petersburg - Learn more
Gulfport LGBT Resource Center - Learn more