Student Health and Wellness Week
Stetson Law's Student Bar Association's Health and Wellness Committee is hosting Student Health and Wellness Week 2023 from April 17- 22 featuring daily programming aimed at driving relaxation and conversations about health and wellness on campus and beyond.
This year's theme is "Rest up Stetson." SBA invites students to join in promoting health and wellness on our campus. The events are thoughtfully coordinated to be informative and stress-relieving.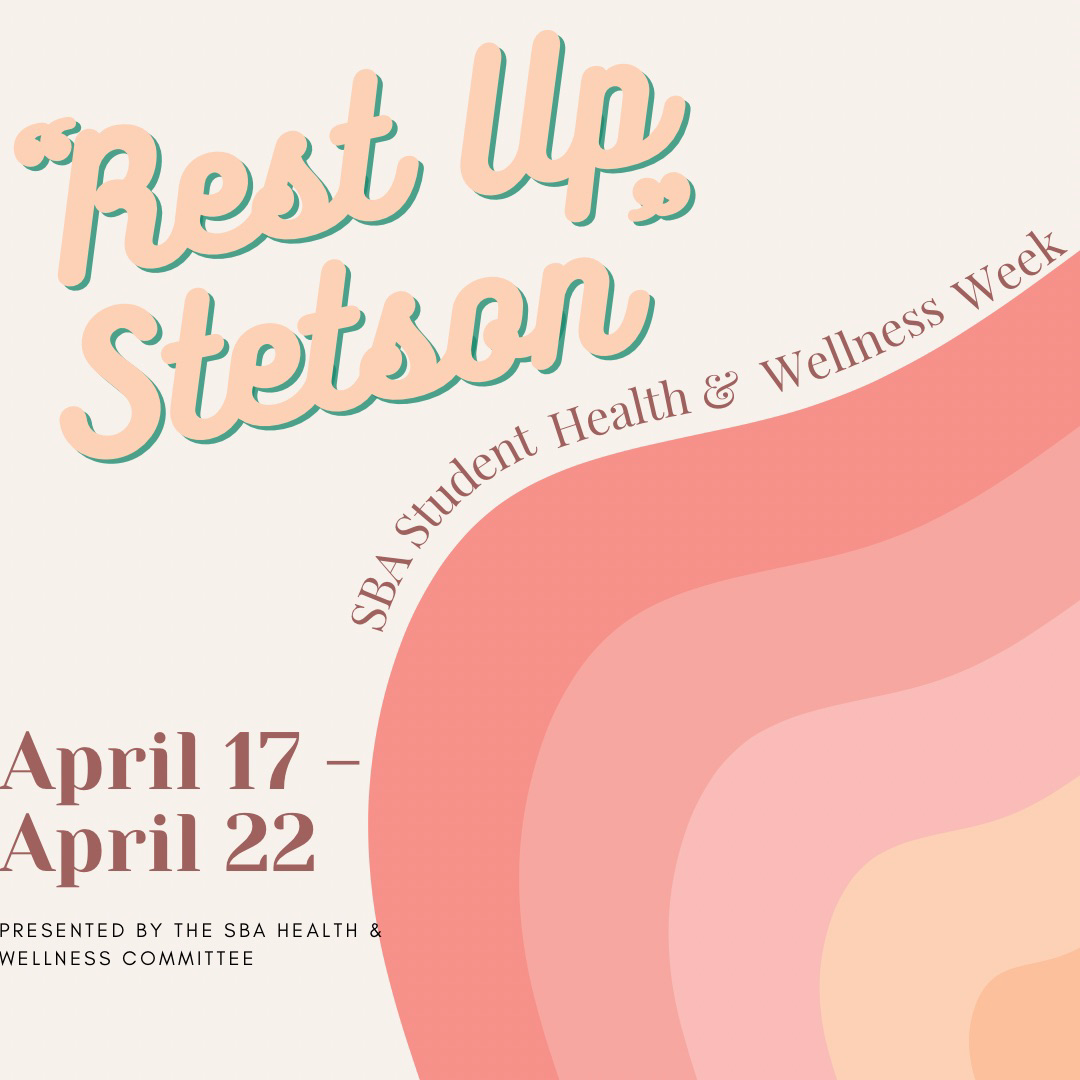 Monday| Tuesday| Wednesday| Thursday| Friday| Saturday
---
Events
Please refer to the Campus Docket and Engage for the most up-to-date event information.
Monday, April 17
Student Wellness Society
12:00 PM - 1:30 PM │Great Hall
Come join us learn what makes food "healthy" from Wendy Wesley. She is a registered dietitian and licensed nutritionist. Exchange healthy recipes with other students as well as enter the grocery store gift card raffle, all while enjoying tasty food from Bolay. Please RSVP on Engage.
Healthy Food and Swag Grab Tabling
LAMBDA
12 p.m.│Crummer Courtyard
Lambda is kicking off Student Health and Wellness Week with a healthy snack break and we will also have merchandise available for grabs.
Tuesday, April 18
12 p.m.-2 p.m.│Crummer Courtyard
Come grab lunch for free and a wellness bag! RSVP here.
4 p.m.-6 p.m.│Tampa Center Atrium and Courtroom
Come grab lunch for free and a wellness bag! Additionally, part-time students will be able to get massages and the official "Lawyer Coloring Book" with colored pencils! RSVP here.
Wednesday, April 19
NAMI
11 a.m.-3 p.m. │Sebring Breezeway
We will be handing out NAMI resources and other goodies, speaking with students about NAMI events, and doing the Stetson Law Student Thoughts awareness initiative.
12 p.m.-6 p.m.│Crummer Courtyard
Come get a massage in the Mann Lounge and free food while we celebrate the end of the semester! Get Henna Tattoos in the Crummer Courtyard at Noon or stop by the Mann Lounge from 1 to 6 pm for some beautiful henna art!
Thursday, April 20
12 p.m. - 2:00 p.m.│Great Hall
Come grab lunch or a paint-by-numbers kit while we talk about self-love and how to manage illness and stress in law school! Additionally, hear how Sickle Cell Anemia and other illnesses that predominately affect minority students can be aided by advocacy! Motivational speaker, Koni LJ Hunter, will encourage students on their law school journey. RSVP here.
7:00 p.m. - 9:00 p.m.│South Parking Lot
Join the Hispanic Bar Association, Immigration Law Student Association, Asian American Law Student Association, and Florida Association for Women Lawyers at Stetson for the annual drive-in movie night! This year we will be screening Crazy Rich Asians. RSVP here.
Saturday, April 22
PALS
10 a.m.-4 p.m. │
Bring your children and your spouse for an egg hunt! Also, come relax and enjoy a massage while we watch movies, paint eggs, and give parents and spouses a much needed break! RSVP here.