Diversity Week: Rooted and Blooming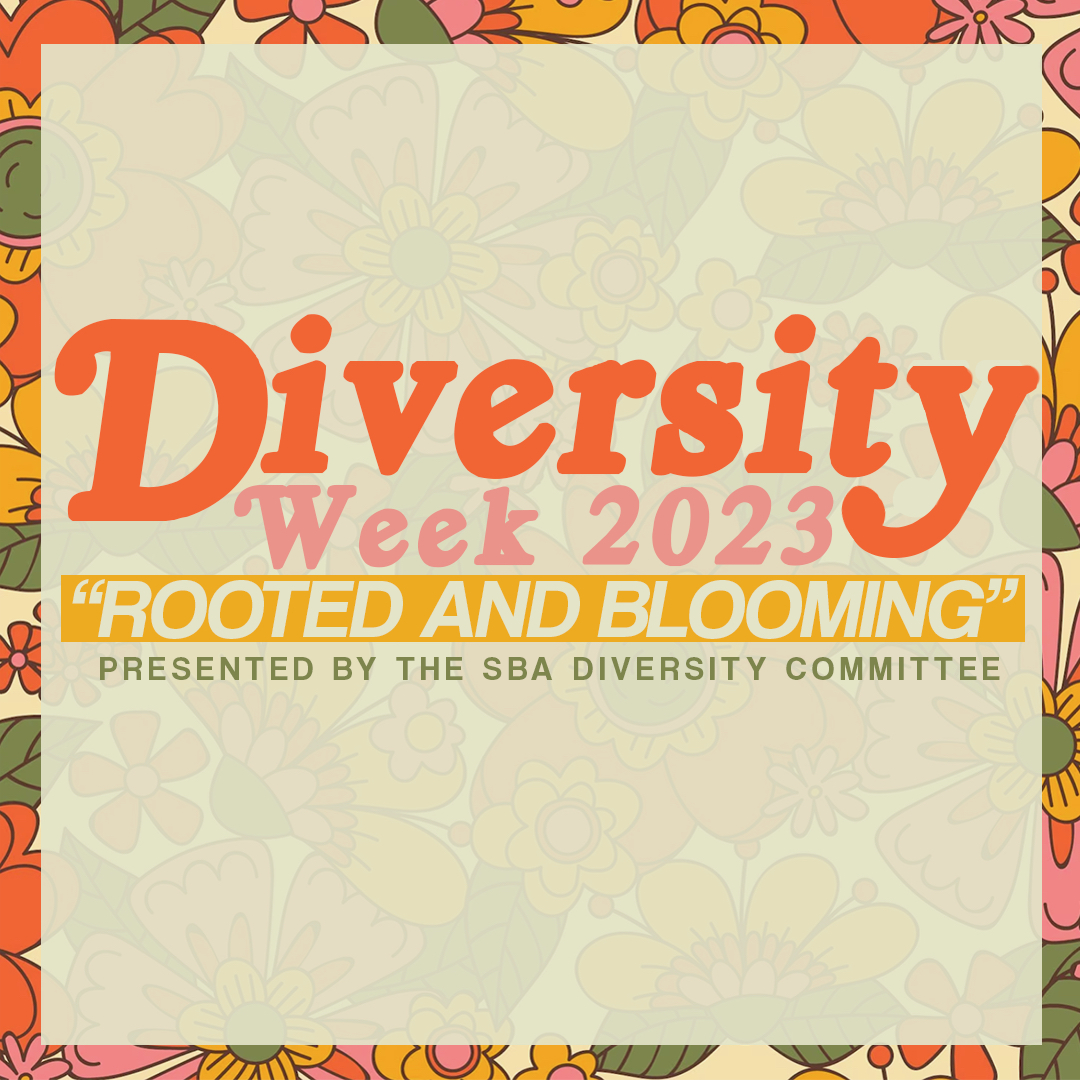 Stetson Law's Student Bar Association will host Diversity Week 2023 from March 6 - 10 featuring daily programming aimed at driving contemplation and conversations about diversity at the college and beyond.
This year's theme is "Rooted and Blooming." SBA invites the Stetson Law Community to join them in celebrating diversity and intersectionality on our campus. The events are thoughtfully coordinated to be informative and open for all of the Stetson Law community to enjoy.
Monday| Tuesday| Wednesday| Thursday| Friday| Saturday
---
Events
Please refer to the Campus Docket and Engage for the most up-to-date event information.
Monday, March 6
Breakfast Sandwiches
7:30 a.m. - 10:30 a.m.│Classroom A
Bagel Table with JLSA
Jewish Law Student Association
12 p.m.│Creummer Courtyard
Discussion on Police Body Camera Footage
Stetson Republicans
12 p.m.│Classroom A
Hummus Break
4:30 p.m. - 6:30 p.m.│The Law Library Atrium
Violence and the Transgender Community
Lambda, Advocates for Health Law, and Mental Health Law Association
5 p.m. - 6 pm│ Classroom A
Tuesday, March 7
Breakfast Buffet
7:30 a.m. - 10 a.m.│The Great Hall Foyer
Arts and Crafts Lunch Hour
SBA Diversity, Communications Committees, Lambda, Stetson Law Democrats
12 p.m.│ Mann Lounge
Gardening with DALSA
Disability Allied Law Student Association
12 p.m.│ Sebring Breezeway
Tortilla Chip Bar
4:30 p.m. - 6:30 p.m.│The Mann Lounge
Deans Round Table
5 p.m.│Classroom A and Zoom
International Women's Week Women Lawyers Panel
Florida Association for Women Lawyers and Hispanic Bar Association
6 p.m. - 8 p.m.│Great Hall
Wednesday, March 8
Hot Cereal Bar
7:30 a.m. - 10:30 a.m.│The Mann Lounge
Law School and Identity
NAMI, Black Law Students Association, and Lambda
12 p.m. │Classroom D
Immigrant Rights in the Workplace
Immigration Law Students Association and Stetson Law Democrats
12 p.m.│Classroom F
A Conversation on Estate Planning and Probate with Professor Diamond
ELS and RPPTL
12 p.m.│Classroom E
Artisan Cheese Spread
4:30 p.m. - 6:30 p.m.│Great Hall Foyer
ABC's with the LGBT
Lambda
5:30 p.m│Mann Lounge
Thursday, March 9
A South Floridian Breakfast
7:30 a.m. - 10:30 a.m.│Great Hall Foyer
State of the Uterus: A Deep Dive into Florida's Reproductive Rights Legislation and Litigation
Black Law Students Association and Asian American Law Students Association
12 p.m.│Classroom D
Bruschetta Break
4:30 p.m. - 6:30 p.m.│Great Hall Foyer
Arabic Tea Tasting
Middle Eastern and North African Law Students Association
5:15 p.m.│The Great Hall
Friday, March 10
Biscuit Bar
7:30 a.m. - 10:30 a.m.│The Mann Lounge
Disney's Inside Out Movie Night with CASL
CASL
6 p.m.│The Great Hall
Sweet and Salty Popcorn Break
4:30 p.m. - 6:30 p.m.│The Mann Lounge
Saturday, March 11
DiversiTEA: Spilling the Tea on Parenthood and Law School
3 p.m. - 5 p.m.│The Great Hall