Part-Time Program
The Fall 2014 New J.D. Student Application is now available.
The Spring 2014 Transfer Application is now available.
---
» Program Locations
» Length of Program
» Curriculum
» How to Apply
» Request More Information
Stetson University College of Law enrolls new part-time J.D. students each fall. Each entering part-time class typically will have between 60 and 65 students. Part-time classes are offered in the evening; a limited number are offered on weekends.
Stetson's program is designed primarily for working professionals -- or others with significant day-time commitments -- who wish to pursue a law degree either to change careers or to enhance their current career. Students have substantially similar credentials as our full-time students; many also hold graduate degrees in a wide variety of fields.
Application Requirements and Procedures
Application requirements and procedures are the same as for the full-time J.D. program. Those requirements and procedures are outlined in our current Viewbook (Office of Admissions and Student Financial Planning, call 727-562-7802 or email lawadmit@law.stetson.edu.
Program Locations
The College of Law's main campus is in Gulfport, Fla., a suburb of St. Petersburg. Stetson Law also has a satellite campus in downtown Tampa. As explained below under "Basic Design and Curriculum," part-time law students may take up to 45 of the 88 credit hours in Tampa.
More specifically, part-time students must take 22 hours (out of approximately 30) over the first two years (five semesters) in Tampa. Once part-time students enter the elective curriculum, they may take up to 23 additional credits in Tampa, or they may opt to take electives entirely in Gulfport.
Length of Program
Part-time students can complete the degree in four years by attending classes every fall, spring and summer. Although we strongly recommend that students complete the required curriculum with their incoming class, part-time students do have the option to extend their studies over six years by modifying their schedule during the elective curriculum. Students who enter the part-time program may apply to convert to full-time status after four semesters, allowing them to graduate in as few as three years (including summers).
Basic Program Design and Curriculum
» Part-Time Program Brochure (PDF)
During the first two years, students take two or three classes each fall and spring semester and two classes during each summer. During the fall and spring semesters, students typically attend classes Monday, Tuesday, and Thursday from approximately 6 to 9 p.m. During the summer semesters, students typically attend classes Monday through Thursday from approximately 6 to 9 p.m.
The first summer is required for all part-time students. Absent a documented disability that prevents a part-time student from taking courses in the evening, we cannot accommodate part-time students in the day-time required curriculum. Usually, one or two evenings in the required curriculum are in Tampa; the others are in Gulfport.
During the third and fourth years, students can expect a similar schedule, but have more flexibility in selecting elective courses. Once in the elective curriculum, part-time students can take classes on either campus, in the evening, or during the day. As noted above, part-time students can take 23 of approximately 58 elective credits at the Tampa Law Center. The College of Law also permits students to take up to 12 credits via distance education; distance courses typically are offered in the summer.
The required curriculum is identical to that taken by full-time students. Members of Stetson's full-time faculty teach required courses; elective courses are taught by members of the full-time faculty and by highly qualified adjunct professors.
Part-time students also have various opportunities to participate in study-abroad programs. Those with flexible schedules may participate in four-week programs in Spain, Argentina, Germany/Netherlands, and China. Those with more limited flexibility are eligible to participate in a week-long program over spring break, a two-week program in January in the Cayman Islands, or may participate in a two-week program in The Hague, Netherlands.
Part-time students participate in a wide variety of extracurricular activities, such as Law Review, student government, and various clubs and student legal organizations. Several also have been able to participate in internships and clinical programs.
Facilities in Tampa
In addition to several state-of-the-art classrooms, the Tampa Law Center also features a satellite law library with many small-group study rooms, a large courtroom that is shared with Florida's Second District Court of Appeal, a smaller courtroom used for small classes and advocacy teams, administrative offices, and a break room. Eight Second District Court of Appeal judges and their staffs work on the third floor.
Application Deadlines
JD Students:
May 15
Transfer Students:
Spring: January 3; Fall: August 1
Video: Stetson's Part-Time
Program Advantage
Discover Your Place
Stetson's qualified and friendly staff is ready to answer your questions. Register for a campus visit to experience a day in the life of a Stetson student. Request an information packet or contact the admissions office at lawadmit@law.stetson.edu or 877-LAW-STET for details.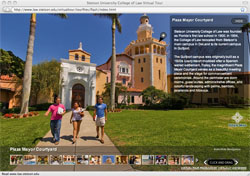 Explore the sights and sounds of Stetson University College of Law's Gulfport and Tampa campuses.
» View Tour