Sally Waters
Instructor in Law
B.A., University of South Carolina
M.A., University of South Carolina
J.D., University of South Carolina
Phone: 727-562-7828
Email: [email protected]
Office: Library (Gulfport)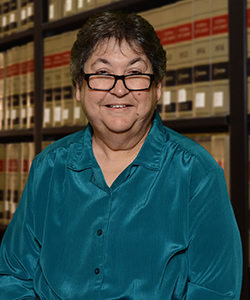 Biography
Sally Waters serves as a Reference Librarian at Stetson University College of Law and has been in this role since 1982. She taught Legal Research and Writing, I and II as was an adjunct professor from 1983-1995. Waters started teaching Advanced Legal Research in 1995 and is still teaching this course at the College of Law.
Waters has given many presentations during her 38-year career to paralegal students, news reporters, library students, public librarians, and more. She earned a Bachelor of Arts in 1978, Juris Doctor in 1982, and Master of Arts in Library and Information Science in 1983 from the University of South Carolina.
She co-authored Free Internet Legal Research, now in its second edition, with Wanita Scroggs and Kristen Moore, and co-written A Lawyer's Guide to Florida Legal Research, which is forthcoming.