Faculty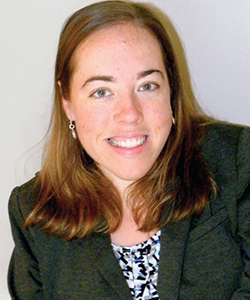 Robyn Powell
Bruce R. Jacob Visiting Assistant Professor
B.S. Bridgewater State University
M.A., Brandeis University
J.D., Suffolk University Law School
Ph.D., Brandeis University
Phone: 727-562-7616
Email: rpowell3@law.stetson.edu
Office: (Gulfport)
Courses
Disability law and Torts
Robyn Powell joined Stetson University College of Law in August 2020 as a Bruce R. Jacob Visiting Assistant Professor, where she teaches Disability Law.
As a disabled woman, Dr. Powell has dedicated her career to advancing the rights of people with disabilities. Before coming to Stetson Law, Dr. Powell was a Research Associate at the Lurie Institute for Disability Policy at Brandeis University. For nearly five years, Dr. Powell served as an Attorney-Advisor at the National Council on Disability (NCD), an independent federal agency that advises the President and Congress on matters concerning people with disabilities. Previously, she served as the Disability Rights Program Manager at the Equal Rights Center, Assistant Director for Policy and Advocacy at the Disability Policy Consortium, and Staff Attorney at Greater Boston Legal Services. While in law school, Dr. Powell interned for both the NCD and the Disability Law Center, the Massachusetts Protection & Advocacy agency.
Dr. Powell is one of the country's foremost authorities on the rights of parents with disabilities. She is the principal author of NCD's Rocking the Cradle: Ensuring the Rights of Parents with Disabilities and their Children. Dr. Powell has written and presented extensively on the rights, needs, and experiences of parents with disabilities and has been interviewed by various news outlets, including NPR, BBC, ABC News, the Daily Beast, and the Associated Press. In May 2016, Dr. Powell was an invited speaker at the White House Forum on Civil Rights of Parents with Disabilities.
Featured Publications
Additional publications are available on SSRN.
Dr. Powell's scholarship focuses on the intersection of disability law and reproductive justice, health law, family law, and public policy. Her legal and social science scholarship is widely-cited and well-known as providing leading, insightful, and reflective analysis of issues related to people with disabilities. Dr. Powell's worked has appeared, or is forthcoming, in Yale Law & Policy Review, Stanford Law & Policy Review, Washington Law Review, Missouri Law Review, Law & Inequality, CUNY Law Review, Family Court Review, and leading peer-reviewed social science journals. Much of her scholarship is available on SSRN.