Faculty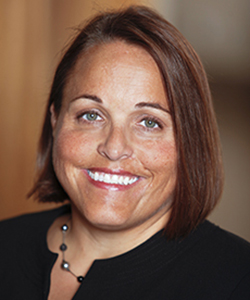 Kirsten K. Davis
Professor of Law
B.A., The Ohio State University
J.D., Michael E. Moritz College of Law at The Ohio State University
Ph.D., Arizona State University, Hugh Downs School of Human Communication
Phone: 727-562-7877
Email: kkdavis@law.stetson.edu
Office: CR-208 (Gulfport)
Courses
Professional Responsibility, Legal Research and Writing, The First Amendment, Legal Discourse and Rhetorical Theory and Honors Seminar
Dr. Davis graduated summa cum laude and Order of the Coif from The Ohio State University College of Law. While at Ohio State, she was a member of the Ohio State Law Journal and chief justice of the Moot Court Governing Board. She began her legal career as a judicial clerk for the Honorable Frederick P. Stamp, Jr., judge of the United States District Court for the Northern District of West Virginia. She later practiced in the areas of litigation, employment and taxation. Dr. Davis began her legal teaching career at the Sandra Day O'Connor College of Law at Arizona State University.
Dr. Davis holds a Ph.D. in Human Communication from the Hugh Downs School of Human Communication at Arizona State University. She has served on the board of directors of the Association of Legal Writing Directors and is a past chair for the AALS Section on Women in Legal Education. She is currently Vice Chair of the Florida Bar's Standing Commission on Professionalism and is on the Board of Directors of the Legal Writing Institute, a national organization dedicated to legal communication.
Featured Publications
Additional publications are available on SSRN.
Dr. Davis's research and scholarship focuses on legal communication, law and rhetoric, professionalism, and professional ethics. Her work has appeared in journals including the Oregon Law Review, Legal Writing: The Journal of the Legal Writing Institute, and William and Mary Journal of Women and the Law. Her mobile application, My Legal Writing™, is a tool for better legal writing and is available for iPhone and iPad.
Dr. Davis is an affiliate member of the Florida Bar Association and has been admitted to practice in Arizona, Ohio and West Virginia. She is a recipient of the Dean's Award for Extraordinary Service and in 2017 was given Stetson's Award for Teaching Excellence.