Kirsten K. Davis
Professor of Law, Faculty Director of Online Legal Education Strategies
B.A., The Ohio State University
J.D., Michael E. Moritz College of Law at The Ohio State University
Ph.D., Arizona State University, Hugh Downs School of Human Communication
Phone: 727-562-7877
Email: [email protected]
Office: CR-208 (Gulfport)
Courses
Professional Responsibility, Legal Research and Writing, The First Amendment, Legal Discourse and Rhetorical Theory and Honors Seminar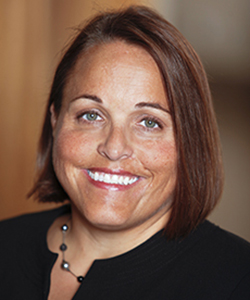 Biography
Dr. Davis is a native Ohioan and a farm kid. She graduated summa cum laude and Order of the Coif from The Ohio State University College of Law. While at Ohio State, she was a member of the Ohio State Law Journal and chief justice of the Moot Court Governing Board.
Dr. Davis began her legal career as a judicial clerk for the Honorable Frederick P. Stamp, Jr., judge of the United States District Court for the Northern District of West Virginia. She later practiced in the areas of litigation, employment, and taxation. Dr. Davis began her academic career at the Sandra Day O'Connor College of Law at Arizona State University where she taught for seven years before she came to Stetson Law in 2007.
Dr. Davis holds a Ph.D. in Human Communication from the Hugh Downs School of Human Communication at Arizona State University. She has served on the board of directors of the Association of Legal Writing Directors and is a past chair for the AALS Section on Women in Legal Education and its Annual Meeting Program Committee. She is also a past Chair of the Florida Bar's Standing Commission on Professionalism and currently serves on the Board of Directors of the Legal Writing Institute, a national organization dedicated to improving legal communication. She is also serving on the Florida Bar Association's Special Committee to Review Professionalism.
Dr. Davis's research and scholarship focuses on legal communication, law and rhetoric, professionalism, professional identity, and professional ethics. She founded Stetson's Institute for the Advancement of Legal Communication, a collective of Stetson faculty whose work addresses the pressing issues of effective and persuasive legal communication. Her work has appeared in journals including the University of Nevada Law Review, Oregon Law Review, Legal Writing: The Journal of the Legal Writing Institute, and William and Mary Journal of Women and the Law. She regularly blogs on the Appellate Advocacy Blog on law and rhetoric topics. Davis designs and delivers continuing legal education and training in effective and persuasive legal and business communication.
Dr. Davis is an affiliate member of the Florida Bar Association and has been admitted to practice in Arizona, Ohio, and West Virginia. She is a recipient of the Dean's Award for Extraordinary Service and in 2017 was given Stetson's Award for Teaching Excellence. Most recently, she was recognized for her work in online education with the 2021 Stetson Board of Trustees COVID-19 Innovation Award.
An avid tennis player and reader of historical fiction, she lives in St. Petersburg with her husband and is a mom to a college student.
Featured Publications
This article explores the problems and possibilities of lawyers' digital rhetoric. The article is not a handbook of rhetorical techniques; rather it offers lawyers a rhetorical perspective on public commentary in a digital environment.
This article argues that teaching rhetorical criticism skills in law school can play a central part in giving lawyers the intellectual skills to perform their roles as fiduciaries of the rule of law and participatory democracy and to understand themselves as moral actors in the public sphere.
Additional publications are available on SSRN.