Jagdeep S. Bhandari
Visiting Professor of Law
J.D., Duquesne University
LL.M., Georgetown University
Ph.D., Southern Methodist University
Email: [email protected]
Courses: Criminal Procedure, International Trade Law, International Business Law and National Security Law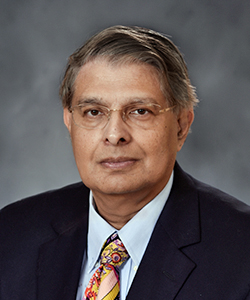 Biography
Jagdeep S. Bhandari comes to Stetson Law from Wake Forest University School of Law, where he was most recently a Professor of Law as well as a Research Professor of Economics at Wake Forest University.
He holds a J.D. from Duquesne University, an LL.M. in International Law from Georgetown University, a Ph.D. in Economics from Southern Methodist University, a Master's degree in Economics from the University of Rochester, and a Master's degree in Higher Education Administration from the University of Nebraska.
Professor Bhandari has taught at several universities such as West Virginia, Duquesne, Johns Hopkins, Carnegie Mellon, Southern Methodist, and Southern Illinois University, in both law and business schools as well as economics departments.
His publications include six books and over 75 publications in peer reviewed journals worldwide spanning a period of over three decades. Much of his work is interdisciplinary in nature. He has also published extensively in bar journals such as the New York Bar Review and others. He has authored or co-authored several Amicus Briefs for the Supreme Court of the United States, mostly in the area of bankruptcy law.
He was formerly a senior executive at the International Monetary Fund and has worked for the U.S. Department of Justice and for the legal department of Federal Reserve Bank of St Louis. For some years, he was an advisor and consultant for a large private equity firm in Chicago and was directly responsible for the business negotiation and legal work for acquisition of various high value target companies.
He has also worked at various law firms in the past, including venerable law firm Reed, Smith, Shaw and McClay in Pittsburgh and was an advisor to the Chief Justice of the Supreme Court of Pennsylvania. He has been admitted to the Bar of four states and is eligible to practice law before the Supreme Court of the United States, several federal appeals courts, federal district courts, and the U.S. Court of International Trade.
Over the course of his career, Professor Bhandari has taught a large number of law school courses in the international area, such as International Business Law, International Trade Law, International Civil Litigation, National Security Law, International Finance, Counterterrorism Law and Information Warfare and Immigration Law in the international area.
He has also had considerable experience teaching various domestic law courses such as, Law and Economics, Evidence, Criminal Procedure, Forensic Evidence, Antitrust, Bankruptcy, Commercial Law (UCC), Business Entities, and others.
Professor Bhandari has lectured and taught for short periods at universities in Germany, Austria, Switzerland, and Turkey. He has served as an expert witness in several cases involving personal injury, commercial losses, valuation of collateral, and antitrust injury in complex cases and has been consultant to international organizations, law firms, and research institutions for both legal work and economic/financial matters.
He has been involved in pro bono work with various charitable organizations, including Lutheran Social Services and Legal Aid, and is a certified mediator for Duval County in Florida.