Jaclyn Lopez
Assistant Professor of Law and Director of the Jacobs Public Interest Law Clinic for Democracy and the Environment
B.A., University of South Florida
M.S., University of Arizona
J.D., University of Denver, Sturm College of Law School
LL.M., University of Florida
Phone: 727-562-7809
Email: [email protected]
Office: Charles A. Dana Buidling, AD 115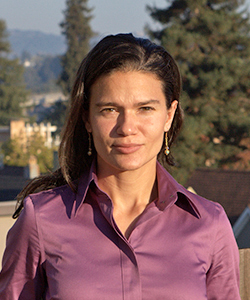 Biography
Professor Jaclyn Lopez established and directs the Jacobs Public Interest Law Clinic for Democracy and the Environment at Stetson's College of Law. She also teaches courses like professional responsibility, advanced legal research and writing, environmental practice, and topics in biodiversity. She comes to Stetson Law from the Center for Biological Diversity, where she served as the environmental nonprofit's Florida Director and senior attorney for over a decade. She holds a master of laws in environmental and land-use law from the University of Florida, a J.D. from the University of Denver Sturm College of Law, and a master's degree in urban planning from the University of Arizona. She writes and lectures on access to courts and decisionmakers, corporate interference in democracy, climate change, water and air quality, environmental injustice, and the extinction crisis
Forthcoming Publications
The (In)direct Effects of 20 Years of Public Citizen, George Washington Journal of Energy & Environmental Law, Vol. 5 (publication forthcoming).
The Climate is Changing and So Must We: Why and How to Prioritize At-Risk Communities and Ecosystems, Washington University Journal of Law & Policy, Vol. 74 (publication forthcoming).
West Virginia v. EPA: the Administrative State's Door is Still Ajar, Leaving the Doors for Standing and Mootness Swinging Wildly, St. John's Law Review, Vol. 97.4 (publication forthcoming).
Between a Rock and a Hardened Place: Prioritizing Climate Resiliency for Biodiversity, Duke Environmental Law and Policy Forum (publication forthcoming).
Diminished Access to Judicial Review is an Unacceptable Consequence of EPA's Delegation of Its Responsibilities to States, Environmental Law, Vol. 53, Issue 4 (publication forthcoming December 2023)
Featured Publications
Scientists generally agree that agricultural runoff is a principal source of nutrient pollution in the United States. Intensive agricultural practices have resulted in decades of phosphorus and nitrogen accumulating in the natural system which continue to contribute substantially to nutrients entering watersheds. Coupled with failed water quality control measures, this water pollution has led to some of the worst harmful algal blooms (HABs) in recorded history. These nonpoint sources need to be addressed to restore and protect water quality.
Seventy phosphogypsum stacks are scattered throughout the United States, concentrated in low-wealth and Black, indigenous, and people of color communities. These radioactive waste heaps have a long history of failures, and present a substantial hazard and unreasonable risk of harm. The U.S. Environmental Protection Agency (EPA) should swiftly move to regulate these environmental and public health hazards.
The threats of the climate change crisis and sea level rise to U.S. infrastructure, military readiness, food security, and the economy are most evident in America's floodplains, where the National Flood Insurance Program (NFIP) has worsened flooding and floodplain development by providing insurance policies that obscure risk and provide discounted coverage. Meanwhile, the United States contributes significantly to global greenhouse gas emissions, which fuels the climate change crisis and worsens flooding. The disconnect between subsidizing development in floodplains and the fact that the United States has made those floodplains even more vulnerable to flooding by leasing federal fossil fuels that contribute to the climate change crisis and sea level rise has cost U.S. taxpayers billions of dollars and put millions of people and our nation's most imperiled species at increased risk.
Coastal areas in the United States are already experiencing the effects of sea-level rise, and the best available science predicts significant additional sea-level rise this century. In addition to sea-level rise, storm intensity and storm surge are also increasing. In some coastal areas, continuing population growth is compounding the threats of climate change and sea-level rise.
It is widely acknowledged that pesticides impact the environment and wildlife in deleterious ways. The Environmental Protection Agency ("EPA") registers and oversees the use of over one billion pounds of pesticides in the United States each year to control weeds, insects and other organisms. Yet for decades the EPA has been notoriously derelict in its duties to comply with the Endangered Species Act ("ESA"), specifically Section 7(a)(2), which requires the EPA, in consultation with U.S. Fish and Wildlife Service and National Marine Fisheries Service, to ensure that the pesticides it registers do not harm imperiled species. Indeed, by virtue of its Section 7 failures, the EPA is also in violation of Section 9 of the ESA for the take of listed species, which results from pesticide applications. Similarly, the EPA has not met its regulatory obligations with respect to Sections 7(a)(1) and 2(c) of the ESA.
There can be little dispute that the United States has been relatively slow in addressing its contribution to climate change. This past June, President Barack Obama signaled that the United States might finally join the rest of the international community in its fight against climate change:
So the question is not whether we need to act. The overwhelming judgment of science—of chemistry and physics and millions of measurements—has put all that to rest. . . . [T]he question now is whether we will have the courage to act before it's too late. And how we answer will have a profound impact on the world that we leave behind not just to you, but to your children and to your grandchildren.
In the wake of British Petroleum's ("BP") Deepwater Horizon oil spill, Michael Ellis, a veteran charter boat captain, volunteered to assist BP with oil spill cleanup efforts. He signed a vessels of opportunity contract with BP, which authorized him to charter a boat in the Gulf of Mexico for sea turtle rescuers so that they could attempt to save sea turtles impacted by the oil spill. Typical sea turtle rescues involved identifying oil lines, which are places in the ocean where oil accumulates at the convergence of two currents, and scooping out sea turtles immobilized by the thick oil.