Jaclyn Lopez
Assistant Professor of Law
B.A., University of South Florida
M.S., University of Arizona
J.D., University of Denver, Sturm College of Law School
LL.M., University of Florida
Phone: 727-562-7809
Email: [email protected]
Office: (Gulfport)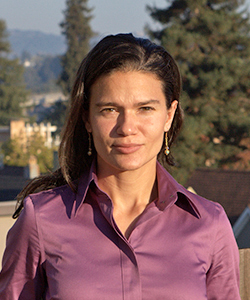 Biography
Born and raised in Florida, Professor Jaclyn Lopez comes to Stetson Law from the Center for Biological Diversity, where she served as the environmental nonprofit's Florida Director and senior attorney for over a decade. She holds a master of laws in environmental and land-use law from the University of Florida and a J.D. from the University of Denver Sturm College of Law. She also holds a master's degree in urban planning from the University of Arizona.
While at the Center for Biological Diversity, Professor Lopez's work involved advocating for the protection of ecosystems in the Caribbean and the Southeast U.S. She has written, taught, and presented extensively on environmental topics, including at Stetson Law, where she taught environmental practice, interviewing and counseling, and topics in biodiversity. Professor Lopez presented on red tide in Florida waterways in August of 2021 as part of the Edward and Bonnie Foreman Biodiversity Lecture Series. In January 2017, she spoke about the hazards of Florida's phosphate industry as part of the series, and in April 2016, she presented at the 16th International Wildlife Law Conference on "The Miraculous Life of a Sea Turtle." She also served as a final-round judge for the 2020 International Environmental Moot Court Competition.
Featured Publications
It is widely acknowledged that pesticides impact the environment and wildlife in deleterious ways. The Environmental Protection Agency ("EPA") registers and oversees the use of over one billion pounds of pesticides in the United States each year to control weeds, insects, and other organisms. Yet...
From April 20, 2010, to August 8, 2010, when BP's Macondo well was finally cemented and the flow offi­cially stopped, approximately 205,800,000 gallons of crude oil poured into the Gulf of Mexico. Put into indus­try terms, that's about 4.9 million barrels of oil. That's enough oil to completely fill over 311 Olympic-sized swimming pools...
Publications
Holding States Accountable for Harmful Algal Blooms: Florida's Water Crisis in Focus, co-authored with Jason Totoiu, University of Florida Journal of Law and Public Policy.
Enforcement of Clean Water Act Could Clean-up Water, Save Florida Manatees, ABA SEER Trends, March/April 2022.
EPA's Opportunity to Reverse the Fertilizer Industry's Environmental Injustices, Environmental Law Reporter, 52 ELR 10125, 2-2022.
From Bail Out to Righting the Course: The Commonsense Action, the United States Must Take to Address Its Flood Crisis, Tulane Environmental Law Journal, Vol. 33 (Summer 2020).
Biodiversity on the Brink: The Role of "Assisted Migration" in Managing Endangered Species Threatened with Rising Seas, Harvard Environmental Law Review, Vol. 39 (Fall 2015).
Can't We Just All Get Along: Reconciling Pesticide Use and Species Protection, Virginia Environmental Law Journal Vol. 33 (Fall 2015).
Sea-Level Rise and Species Survival along the Florida Coast, in Climate Change Impacts on Ocean and Coastal Law: U.S and International Perspectives (ed. R. Abate 2014).
The New Normal: Climate Change Victims in Post-Kiobel United States Federal Courts, Charleston Law Review, Vol. 8 (Fall 2013).
Too Much Oil for the Rubber-Stamp: The Government's Role in the BP Oil Spill, Florida A&M University Law Review, New Directions in Environmental Law and Justice Symposium Edition, Vol. 6 (Spring 2011).
Dispersants: The Lesser of Two Evils or a Cure Worse Than the Disease?, coauthored with Catherine Kilduff, University of Maine School of Law, Ocean and Coastal Law Journal, Vol. 16 (2011).
BP's Well Evaded Environmental Review: Categorical Exclusion Policy Remains Unchanged, Ecology Law Currents, UC Berkeley School of Law (Nov. 2010).
Endocrine-Disrupting Chemical Pollution: Why the EPA Should Regulate These Chemicals Under the Clean Water Act, American University, Washington College of Law, Sustainable Development Law & Policy, Vol. X, Iss. 3 (Spring 2010).
What We Should Learn From the BP Spill, Environmental Law Section of the State Bar of California, Environmental Law News, Vol. 20 (Winter 2011).
Supreme Court Plurality Decision Muddies "Navigable Waters," Section of Litigation, American Bar Association (Summer 2006)