Erin Okuno
Assistant Professor of Law
B.S., Georgia Institute of Technology
J.D., Stetson University College of Law
Email: [email protected]
Courses: Legal Research and Writing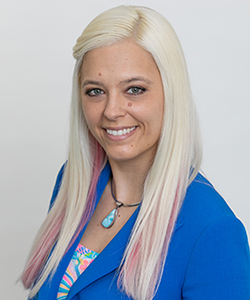 Biography
With years of legal scholarship, professional experience, and other key achievements, Professor Erin Okuno returns to her alma mater to teach legal research and writing. She most recently taught Legal Communication and Research Skills as well as Animal Law at University of Miami School of Law.
A Stetson Law alumna, she graduated at the top of her class in 2013 – and the 2013 Edward D. Foreman Most Distinguished Student Award winner's Stetson Law ties run deep. She was editor-in-chief of the Stetson Law Review, a Foreman Biodiversity Fellow for the Institute for Biodiversity Law & Policy, an advocacy skills trainer, and an adjunct and visiting professor. Professor Okuno has also taught at Mitchell Hamline School of Law, Georgia State University's J. Mack Robinson College of Business, and University of South Florida Honors College.
Her teaching interests include legal research and writing, animal law, and environmental law. She has written, lectured, and presented extensively on matters concerning environmental law, particularly wetlands and wildlife protection. Since 2017, she has worked with a small team of attorneys to prepare amici curiae briefs on behalf of scientists and scientific organizations in cases related to the Clean Water Act and its administrative regulations. In 2020, Justice Breyer cited the team's amici curiae brief in his majority opinion in the U.S. Supreme Court case County of Maui v. Hawaii Wildlife Fund.
She earned her B.A., summa cum laude, in psychology from Georgia Institute of Technology, where her honors include the President's Undergraduate Research Award.