Faculty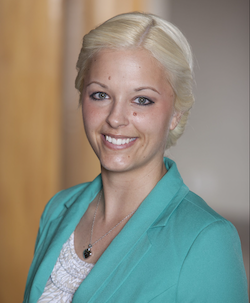 Erin Okuno
Visiting Professor of Law
B.S., Georgia Institute of Technology
J.D., Stetson University
Phone: 727-562-7734
Email: okuno@law.stetson.edu

Courses
Research and Writing I, Research and Writing II
Erin Okuno is a licensed attorney who works at Stetson University College of Law as the Assistant Director of the Institute for Biodiversity Law and Policy. Erin assists with the Institute's environmental education and service activities, and she engages in environmental research and writing tasks on environmental law, science, and policy issues. Erin also presents at national and international conferences; coordinates environmental conferences, events, and educational opportunities for students, attorneys, and other professionals; and helps with fundraising and grant writing efforts to support the Institute. Erin has taught law students and undergraduate students as a visiting or adjunct professor at four different universities, and as an advocacy skills trainer, she coaches teams of law students to prepare them for moot court competitions.
Featured Publications
Additional publications are available on SSRN.
Erin's research and scholarship focus on environmental law, particularly wetlands, biodiversity, endangered species, and international environmental law. She has authored and co-authored articles in Ecology Law Quarterly; Environmental Law Reporter; Administrative & Regulatory Law News; Marine & Freshwater Research; Wetlands; and Wetland Science & Practice. Erin also was a contributing author to the Global Wetland Outlook: State of the World's Wetlands and their Services to People, the flagship publication of the Ramsar Convention on Wetlands. For the past few years, she has worked with a small team of attorneys to prepare amici curiae briefs on behalf of scientists and scientific organizations regarding the Clean Water Act, 2020 Navigable Waters Protection Rule, and 2015 Clean Water Rule. Earlier this year, Justice Breyer cited the scientists' amici curiae brief in his majority opinion in the U.S. Supreme Court case County of Maui v. Hawaii Wildlife Fund.
Erin graduated summa cum laude from Stetson University College of Law. As a student, she served as the editor in chief and managing editor of the Stetson Law Review and was a member of Stetson Law's award-winning Moot Court Board. At graduation, Erin received the Edward D. Foreman Most Distinguished Student Award. Prior to working at Stetson Law, she practiced at a law firm in Tampa, Florida.