Brooke J. Bowman
Professor of Law, Director of Finances, Advocacy Boards, and Director, Moot Court Board
B.S., Indiana University, Bloomington
M.S., University of Illinois, Urbana-Champaign
J.D., Stetson University College of Law
Phone: 727-562-7370
Email: [email protected]
Office: DA-208 (Gulfport)
Courses
Research and Writing I, Research and Writing II, Polishing for Professionals and Elder Law Seminar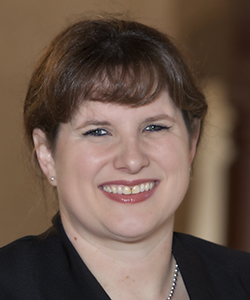 Biography
Professor Brooke J. Bowman teaches Research and Writing I and II. She is also the coordinator of the Scholarly Writing Series program.
Professor Bowman is the Director, Moot Court Board, and she has coached or co-coached a number of Stetson's moot court teams that have won state, regional, national, and international competitions. She serves as a volunteer brief evaluator for a number of national moot court competitions. Since the fall of 2013, she has been a member of the ABA Competition Committee, specifically, a member of the National Appellate Advocacy Competition subcommittee. She chaired the subcommittee in 2015–2016, 2017–2018, and 2020–2021.
Currently, Professor Bowman serves as the Managing Editor of Perspectives: Teaching Legal Research and Writing. In the fall 2016, Professor Bowman completed ten years of service on the Editorial Board for Legal Writing: The Journal of the Legal Writing Institute. During that time, she served as the Assistant Managing Editor, the Managing Editor, the Assistant Editor in Chief, and the Editor in Chief. She is a co-author of ALWD Companion: A Citation Practice Book (with accompanying Teacher's Manual), which is a practice book to accompany the 4th edition of the ALWD Citation Manual. Professor Bowman is the editor of the ALWD Online Companion that accompanies the sixth edition of the ALWD Guide to Legal Citations.
Professor Bowman is currently the Chair, Scribes: The American Society of Legal Writers Law Review Committee; Co-Chair of ALWD Guide Task Force, and member of the Board of Trustees for the Pinellas County Law Libraries.