Kaelyn Romey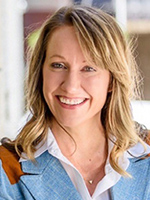 Visiting Professor of Tax Law, University of San Francisco School of Law.
Adjunct Professor of Trial Advocacy & Evidence - UC Hastings College of Law, John Marshall Atlanta, Santa Clara University School of Law
Formerly, Senior Counsel for San Francisco's Internal Revenue Service Office of Chief Counsel (Small Business/ Self-Employed Division). Experienced litigator skilled in tax controversy, developed and analyzed effective tax audit strategies, and advised and counseled senior international audit teams on legal and procedural issues. Prior to IRS, obtained broad litigation experience through civil law firm work focusing on litigation, real estate transactions, dispute settlement, and tax controversy.
Former law faculty and Litigation Center Director at Golden Gate University School of Law. Highly skilled at depositions, witness examinations, evidence, trial advocacy, and pre-trial litigation. Developed and instructed in the nationally recognized Honors Summer Trial Advocacy Training Program. Curated a technology litigation summit, and hosted and managed annual national events. Created an innovative curriculum for advanced litigation skills training, and regularly instructed for the National Institute of Trial Advocacy (NITA). Provided multiple nationwide trainings in conducting on-line proceedings, effective cross-examination, deposition skills, trial advocacy, and tax litigation.
Throughout career, was an active leader on committees and volunteer efforts for state and local bar associations. Former California State Bar Taxation Section Executive Committee member, held roles of Annual Meeting Speaker Chair, DC Delegation Chair, and Associate Articles Editor for the tax section's quarterly law journal. Currently serving as Co-chair of ABA Evidence - Criminal Tax Sub-Committee, California State Bar Taxation Section Advisory Board, Queen's Bench Education Committee, AALS Evidence Committee Treasurer, and AALS Women in Legal Education Committee Member.