Tornado Information
Tornado Terminology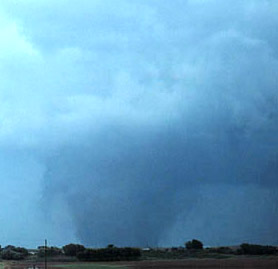 A "tornado watch" is issued by the National Weather Service when tornadoes are possible in the area.
A "tornado warning" indicates that a tornado has been sighted in the area, or is indicated on weather radar and that you should proceed to safe shelter immediately.
Signs of a Tornado
Unlike hurricanes, tornadoes approach very rapidly and with little notice. Below are some of the things people describe when they tell about a tornado experience:
A sickly greenish or greenish black color to the sky.
If there is a watch or warning posted, then the fall of hail should be considered as a real danger sign.
Hail can be common in some areas, however, and usually has no tornadic activity along with it.
A strange quiet that occurs within or shortly after the thunderstorm.
Clouds moving by very fast, especially in a rotating pattern or converging toward one area of the sky.
A sound a little like a waterfall or rushing air at first, but turning into a roar as it comes closer. The sound of a tornado has been likened to that of both railroad trains and jets.
Debris dropping from the sky.
An obvious "funnel-shaped" cloud that is rotating, or debris such as branches or leaves being pulled upwards, even if no funnel cloud is visible.
Notice of a Tornado
If Stetson learns of a tornado watch, we will send a notice via campus e-mail. If Stetson learns of a tornado warning, we will make every effort to send notice via e-mail, text message (for those who have registered on the Intranet), and phone announcement (via campus phones). If you learn of a tornado watch or warning in the Tampa Bay area, contact Public Safety in Gulfport at 727-343-1262 or Tampa at 727-420-8868.
Where to Take Shelter on Campus
If you see a tornado, or are alerted to take shelter from a tornado, the areas below are recommended. Time permitting, it's best to get to an interior room without windows on the first floor. However, if you must go outside to enter one of these areas, you might be better off staying inside, moving away from doors and windows, and attempting to cover yourself. If at all possible, cover yourself with clothing, bedding or other protective coverings.
Gulfport Campus
Sebring Courtroom
Men's and women's restrooms in the first-floor Administration Building Hallway
Women's restrooms in the Administration Building Breezeway
Men's restroom across from the Florin Roebig Courtroom
Women's restroom across from Classroom
Eleazer Courtroom: Men's and women's restroom in hallway; judge's chambers; electronic education room
Interior offices in Elder Law Center
Student Center: men's and women's locker rooms: SC103 and SC 104
Student Center: Kitchen Prep Area
Gulfport Library: Computer Lab 141; Study rooms 127,128,130,131; Lab 129; Copy Room 156; Circulation area (rollers closed); Technical Services (doors closed)
Tampa Campus
Administrative Suite Copy Room
Faculty Office 103 (Administrative Suite)
Faculty Office 104 (Administrative Suite)
Bathroom in TLC Director's office
Catering kitchen in break room
Men's and women's restrooms throughout building
Access hallway leading to Wm. Reese Smith Jr. Courtroom
If you are in the open:
Move at right angles to the tornado.
Attempt to reach shelter.
If there is no time to escape or find shelter, lie flat in a ditch or depression and avoid areas subject to rapid water accumulation or flooding in heavy rains.
Additional Information
Online Tornado FAQ
American Red Cross Tornado Safety Checklist
Homeland Security - Tornado Information
Campus Emergency Phone Number: 727-343-1262