Strategies for Success
Your time in law school can be extremely challenging. Use the links below to learn ways to better: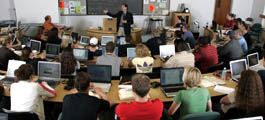 Personality Profiles
The study and practice of law will frequently require you to collaborate with your colleagues on projects. An understanding of personality profiles can make such collaboration more productive by revealing how you and others process information, make decisions, and communicate. It will also help you further appreciate how personality intersects with learning preference.
To obtain a complete picture of how you learn best, consider completing a personality profile inventory as well as a learning styles inventory. There are many Web sites built around the Myers Briggs Personality Type Indicator, a well respected personality profile inventory. Here's one: