Academic Resources
Videos
Note: The videos below require Windows Media Player to view.

An Overview of the Court System

The Three Branches of Government

Taking Notes in the Law School Classroom (23:10)

Commercial Study Aids - To Use or Not to Use (28:10)

Critically Reading Cases (38:33)
Accompanying Documents: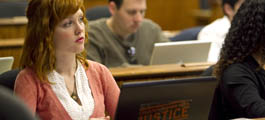 Learning Style Inventories
Research into learning theories has revealed that each of us has different learning preferences. Some students prefer to learn new material through reading, while others prefer to listen to a speaker, or learn best through pictures or graphical representations of material. Law school requires you to learn an incredible amount of new material and understanding your preferences can help you.
There are several learning style inventories available; most take about 20-30 minutes to complete and provide you with a set of suggestions tailored to your individual learning preferences. Links:
Index of Learning Styles Questionnaire