How to Apply - Clinics and Externships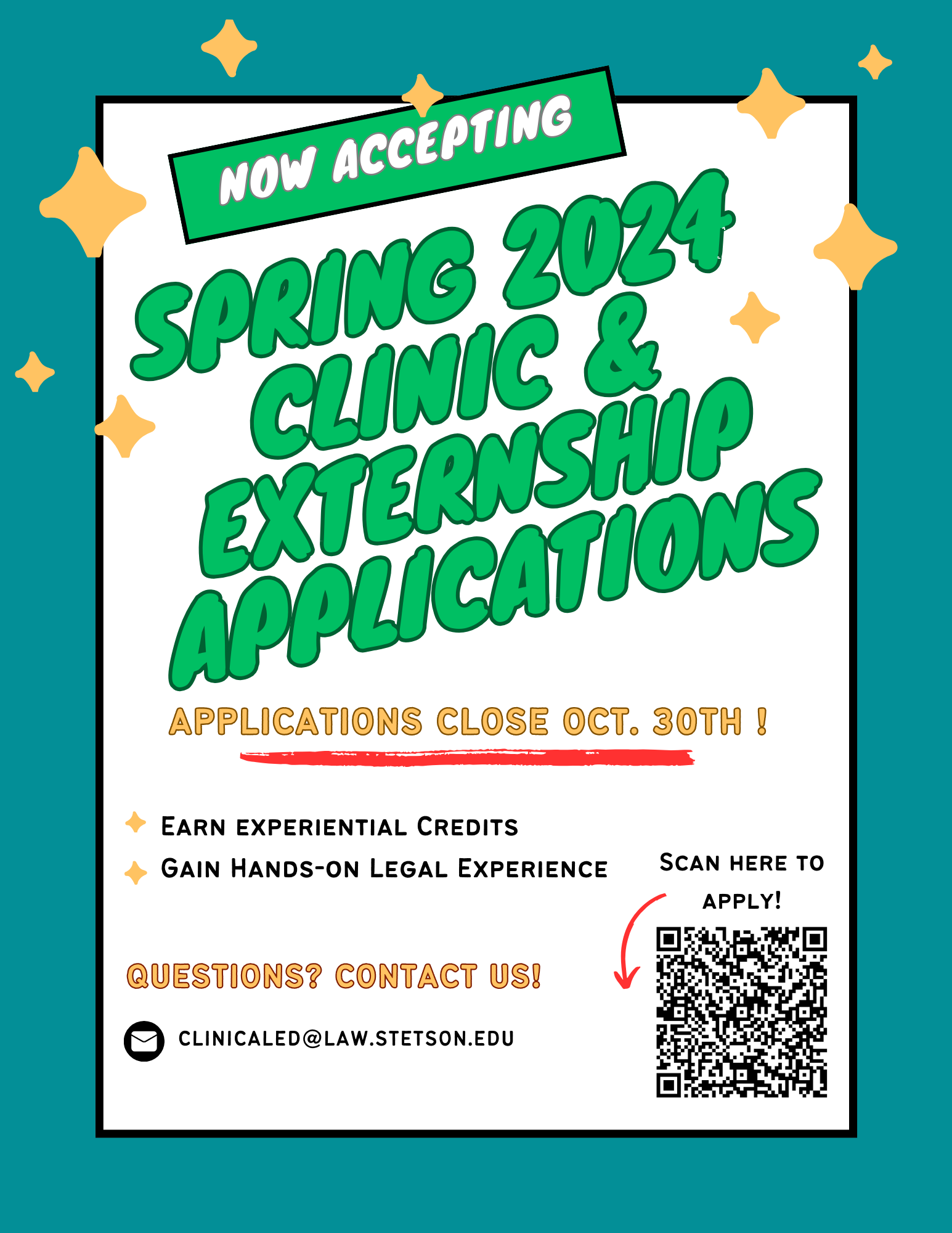 The application will require you to upload PDF versions of the following documents:
Current résumé;
Unofficial Stetson transcript (with class rank);
Cover Letter(s);
If applicable, a copy of your Florida Bar Character and Fitness clearance;
If applicable, a full explanation of any alleged Honor Code violations; and
If applicable, a full explanation of any alleged criminal violations.
* All applications, résumés, transcripts, cover letters, and all disclosures involving Honor Code violations or criminal violations will be reviewed by overseeing professors and may be forwarded to the hosting agency or placement.
Again, these documents must be in PDF format. Please have all of the necessary documents available before you begin the application.
If you experience any technical difficulties while attempting to complete the application, notify the Clinical and Experiential Education Department at [email protected] immediately.
Helpful Hints:
On converting your résumé, cover letter(s), and transcript into PDF files
For your résumé and cover letter(s), open the document through Microsoft Word and use the "Save As" function to save as a PDF. For your transcript, hit "print" and the in the select printer function, select "print to PDF" then save as a PDF.
On preparing your resume and cover letter(s)
We encourage you to meet with the Office of Career and Professional Development to have your resume and draft cover letter reviewed prior to the application window.
On your cover letter specifics
Address your cover letter to the clinic or externship overseeing professor. Write about what you hope to gain from the experience, and how you will grow professionally and personally. Consider why your past choices inform your current pursuits, and how your intended placement will impact your career goals and skill development. Use formatting consistent with the guidelines shared by the Office of Career and Professional Development.
On preparing your disclosures
Any disclosure you must submit should be concise, direct, and discuss only relevant facts and details. If you have made the same disclosure on your Stetson Law admissions application, or your application to the Florida Bar, please mirror the language used. If the circumstances surrounding your disclosure have prompted you to change, modify, or reconsider behavior patterns and you believe this information is relevant, you may include, in a limited capacity.