Dispute Resolution
The Dispute Resolution (DR) Board is an organization that consists of four categories of student competition teams.
1. Client Counseling Team: This team focuses on meeting a client, identifying the client's problem, probing the client for information, advising the client of his or her rights or options, and discussing fees and confidentiality. Students work in pairs and are given a snippet of information about the client's problem prior to the competition. Also, students are made aware of the subject matter involved with the client's problem (i.e., elder law, property law, wills and trusts).

2. Negotiation Team/Environmental Negotiation Team: This team focuses on the art of negotiation and persuasion. Students work in pairs and are given a general information sheet about why and what they want to negotiate with the other side. Also, each team is given a "secret" information sheet with private facts about its client. These "secret" facts are not to be shared with the other teams. These "secret" facts help each team understand a client's wishes and motivations. Based on these general and "secret" facts, the two teams try to negotiate a settlement, contract, lease agreement or whatever goal the clients hope to reach. The environmental negotiation team is identical except that the negotiation topic is always environmental law.

3. Representation In Mediation Team: This team also focuses on the art of negotiation and persuasion, but with a twist. One team member will play the role of the client while the other plays the role of the attorney. In addition to the two teams trying to reach a settlement, contract, lease agreement, etc., a mediator (neutral third-party) helps to facilitate conversation and common ground. Both teams and the mediator meet to discuss each team's position and demands. Each side may ask for a private caucus with the mediator to discuss strategies and positions. During the group sessions and private sessions, the team members MUST stay in their roles as either client or attorney.

4. Student Tax Law Challenge: This team must address a client's tax problem by researching and writing a 10-page memo to its senior partner explaining its proposed course of action. The team must also write a four-page letter to the client explaining its solution to the client's problem. The ABA Tax Division chooses the top four entries to participate in the semi-finals at the ABA mid-year convention. Teams must defend their positions to tax attorneys and judges.
Eligibility
All students who have completed Research and Writing II and have two full semesters remaining (NOT including the summer semester). The semester in which you are currently enrolled counts as one semester.
How Members Are Chosen
DR Board members, like Trial Team and Moot Court Board members, are chosen through the Annual Advocacy Board Workshop and Tryouts held in early May. For more information, please see the Advocacy Board Tryouts Information page.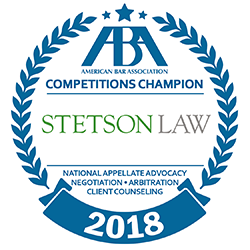 Stetson Named First ABA Competitions Champion
Stetson University College of Law has been named the first American Bar Association Competitions Champion.
For the first time in its 17-year history, Stetson's Dispute Resolution Board achieved a perfect four-for-four record of advancing to nationals in all four dispute resolution competitions sponsored by the ABA. Stetson University College of Law is the first school to achieve this distinction. This year, more than 1,300 students from 156 law schools participated in one or more of the competitions sponsored by the ABA Law Student Division.
The competitions represent all the areas in which the Dispute Resolution Board competes: arbitration, client counseling, and negotiation, in addition to the Moot Court Board competing in the national appellate advocacy competition. Stetson students advanced to nationals from regional ABA championships in arbitration and negotiation in November of 2017, client counseling and mediation in February 2018.