Arthur P. Sullivan, '62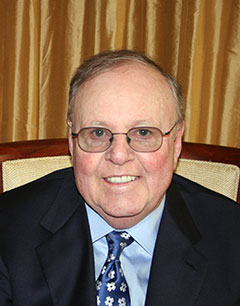 Owner, Sullivan Automotive Group
Ponte Vedra Beach, Fla.
Art Sullivan has had a distinguished career in the automotive industry as owner of Sullivan Automotive Group, which consists of several automobile dealerships throughout Central Florida. He has served on the boards of numerous dealer associations. He received Stetson's Distinguished Alumni Award in 1995 and served on Stetson's $200 Million Campaign Host Committee. Art served on Stetson's Board of Trustees from 1994 to 2008, and was chair of the Trustee Athletics Committee for nine years, 1999 to 2008. In 2011, he served on the search committee for the Men's Basketball Head Coach position. He is a member of the Stetson Society.
Sullivan has remained a staunch advocate for Stetson University throughout his life. With a passion for writing, he established the Sullivan Creative Writing Program and the Sullivan Writing Endowed Chair at Stetson University. He has helped many students through both academic and athletic scholarships. He was named Trustee Emeritus in 2012.