Will Bunting
Assistant Professor of Law
B.A., Carleton College
J.D., New York University School of Law
Ph.D., Yale University
Phone: 727-562-7883
Email: [email protected]
Office: (Gulfport)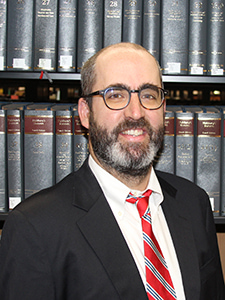 Biography
With a deep background in business law as it relates to civil rights and economics, Professor Bunting joins Stetson's Law faculty from Temple University's Fox School of Business. There he taught and conducted research as part of the Department of Legal Studies in Business.
His scholarly work includes a paper on a potential inverse relationship between access to mortgage dollars and local crime rates and an article on rebuilding the retail sector.
Prior to his time at Temple, he worked in the U.S. Department of Justice's Civil Rights Division, whereas as an economist he developed models and other tools to help the agency better serve consumers. He also worked in the American Civil Liberties Union's Center for Justice, practiced as an attorney in New York City, and worked as a law clerk for The Hon. Theodore H. Katz, a federal judge in the Southern District of New York
Professor Bunting holds a Ph.D. in economics from Yale University, a J.D. from New York University School of Law, and a B.A. in mathematics and economics from Carleton College.