Wanita Scroggs
International Law Librarian and Instructor in Law
B.A., Texas A&M University
J.D., Arizona State University
Phone: 727-562-7825
Email: [email protected]
Office: Library (Gulfport)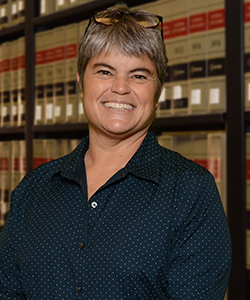 Biography
Wanita Scroggs is a native of Florida. She serves as the international law librarian at the Dolly and Homer Hand Law Library at Stetson University College of Law. She attended Texas A&M University where she earned a Bachelor of Arts degree in philosophy. She earned her Juris Doctor from the Sandra Day O'Connor College of Law at Arizona State University.
Scroggs also earned a master's degree in information science from the University of South Florida. She is a member of the Florida Bar.
She is the co-author of Free Internet Legal Research (and the second revised edition), from Vandeplas Publishing, as well as A Lawyer's Guide to Florida Legal Research (forthcoming from Vandeplas Publishing). She teaches courses in advanced legal research, both domestic U.S. and international.