Stacey-Rae Simcox
Professor of Law, Director of Veterans Law Institute and Director of Veterans Advocacy Clinic
B.S.C./B.A., Ohio University
J.D., William & Mary School of Law
M.Div., Liberty University
Phone: 727-562-7800
Email: [email protected]
Office: Veteran's Building (Gulfport)
Courses
Veterans Law, Administrative Law, Trusts, and Estates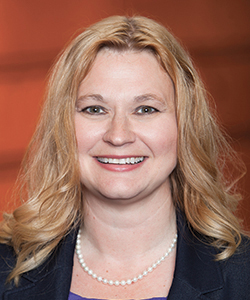 Biography
Stacey-Rae Simcox is a Professor of Law and Director of Stetson University College of Law's Veterans Law Institute and Veterans Advocacy Clinic. She teaches in the areas of veterans benefits law, administrative law, trusts and estates, and legal skills. Professor Simcox joined Stetson in July 2014 from William & Mary Law School, where she was the founder and director of the nationally recognized Lewis B. Puller Jr. Veterans Benefits Clinic. Under Professor Simcox's direction, the Puller Clinic was recognized as a model for law schools serving veterans and was certified as a national best practice clinical program by the secretary of the Department of Veterans Affairs.
Professor Simcox has helped to establish a unique medical-legal partnership between Stetson University College of Law and the University of South Florida's Morsani College of Medicine which allows medical students and faculty to collaborate with law students and faculty for the benefit of disabled veterans.
Professor Simcox was the Reporter for the Uniform Law Commission's Model Veterans Treatment Court Act. She is a founding member of the National Law School Veterans Clinic Consortium and served as its President and on its Board for six years. She also serves on the Tampa Bay VA Community Engagement Board and the local congressional veterans advisory taskforce.
Professor Simcox regularly speaks on veterans law topics, provides training to other law schools on creating successful veterans clinics, and conducts outreach to homeless veterans. She has testified before the Department of Veterans Affairs Advisory Committee on Disability Compensation and has spoken to the media including the Associated Press and NPR.
The struggles of veterans to navigate the Department of Veterans Affairs' (VA) mammoth bureaucracy flash across our news screens every evening and Congress regularly holds hearings to address the many billions of dollars spent on unsuccessful solutions.
Department of Defense data reveals that of those who served in the U.S. Military from 2000 through 2011, 235,046 service members (4.2% of the 5,603,720 who served in the Army, Air Force, Navy and Marine Corps) were diagnosed with a Traumatic Brain Injury (TBI).
Additional publications are available on SSRN.
Professor Simcox has presented before numerous conferences including the National Conferences on Law Clinics Serving Veterans, the Court of Appeals for Veterans Claims Judicial Conferences, the American Psychological Association, the AALS Conferences on Clinical Legal Education, the AALS Annual Conference, the National Organization of Veterans Advocates Conferences, the National Conference on Special Needs Planning and Special Needs Trusts, and at multiple task forces and Continuing Legal Education events.
Professor Simcox co-edited and contributed chapters to Servicemembers and Veterans Rights and wrote a chapter for the American Bar Association Military Handbook. She has also written several articles in the area of veterans' benefits. Additionally, she has co-authored a casebook (forthcoming) Veterans Benefits: Law, Theory, & Practice (Carolina Press).
Professor Simcox is a veteran of eight years in the U.S. Army Judge Advocate General's Corps on active duty and in the U.S. Army Reserves, reaching the rank of Major. She is a graduate of the William & Mary Law School. Her experience includes courtroom advocacy as a Special Assistant United States Attorney and Trial Counsel and regulatory and administrative law advising for the U.S. Army. She also clerked for the Honorable Chief Judge Susan Crawford of the United States Court of Appeals for the Armed Forces. In private practice, Professor Simcox focused on elder law and veterans issues.