Michael S. Finch
Professor Emeritus
B.A., Oberlin College
J.D., Boston University School of Law
S.J.D., Harvard Law School
Phone: 727-562-7862
Email: [email protected]
Office: E-202 (Gulfport)
Courses
Civil Procedure, Expert & Scientific Evidence, Federal Courts, Law & Religion, Conflict of Laws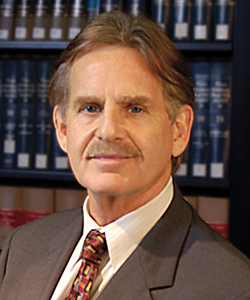 Biography
Professor Finch joined the law faculty in 1982, after practicing law in New England. In 1990, he received a Doctor of Juridical Law (S.J.D.) from Harvard Law School, the school's most advanced law degree. His dissertation was based on an empirical study of the effects of collective bargaining and dispute resolution in public education. While attending Harvard Law school, he served as a research assistant to Professor Allen Dershowitz.
Professor Finch is co-author with colleague Jason Bent, and Judge Michael Allen (U.S. Court of Appeals for Veterans Claims) of An Illustrated Guide to Civil Procedure (Aspen 4th ed. 2019). He is also co-author with Caprice Roberts and Judge Allen of Federal Courts: Context, Cases, and Problems, (Aspen 3d ed. 2020). Professor Finch has published extensively, including articles in the Minnesota Law Review, the Wisconsin Law Review, the Ohio State Law Journal, and the Business Lawyer. His work has been cited by numerous federal and state courts, including the United States Supreme Court and the Florida Supreme Court. Between 1998 and 2015, Professor Finch engaged in trial support and civil appellate practice and handled several appeals involving multi-million-dollar verdicts. Professor Finch is a member of the Florida, Connecticut, Montana, and Vermont (inactive) bars.
Professor Finch is married to the former Lora Jaye Smeltzly (Stetson Law class of 1987) and has two daughters, Chloe (currently attending Brown University), and Lily (currently in high school). When not in Florida, Professor Finch and his family like to spend time cycling in Europe or rusticating at their second home in Ennis, Montana, located north of Yellowstone Park and east of Big Sky Ski Resort. While in Montana, Professor Finch enjoys snowboarding, knife-throwing and archery, woodworking, and maintaining the property.
Professor Finch is also a private pilot (currently inactive) and amateur saxophonist. He has a blue belt in Brazilian Jiu-Jitsu, awarded by Gracie protégé, Eduardo de Lima. In 2003, he received a bronze medal in Brazilian Jiu-Jitsu at the Pan American games in Santa Barbara, California.