Grant Christensen
Assistant Professor of Law
B.A., University of Richmond
J.D., Ohio State University College of Law
LL.M., University of Arizona
Email: [email protected]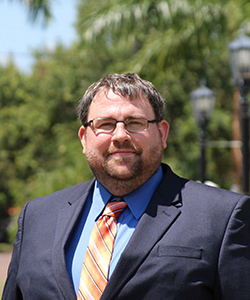 Biography
Grant Christensen joined the Stetson University College of Law faculty as an Assistant Professor in 2021 to teach Civil Procedure and related courses as well as courses related to Federal Indian Law. Before coming to Stetson, Professor Christensen was an Associate Professor at the University of North Dakota School of Law and a visiting professor at the University of Oregon College of Law. He also taught in the summer of 2019 and summer of 2020 at the Pre-Law Summer Institute (PLSI), a summer program organized by the American Indian Law Center and held at the University of New Mexico designed to help Indigenous students prepare for law school.
Professor Christensen is a nationally recognized expert on Federal Indian Law. He has served as a tribal appellate judge for the Standing Rock Sioux and Fort Peck and Assiniboine Sioux Tribes is the co-chair of the ABA Business Law Section's Tribal Litigation Subcommittee, and is a peer reviewer for the American Indian Law Review.
Professor Christensen has published extensively in the area of Federal Indian Law, often exploring its intersection with corporate law, criminal law, and civil procedure. He is the co-author of Reading American Indian Law: Foundational Principles (Cambridge University Press 2020) (co-authored with Melissa Tatum) and Introduction to American Indian Studies: Policies, Histories, and Contemporary Issues (Kendall/Hunt) (co-authored with Sebastian Braun and Birgit Hans). His recent law review scholarship includes Indigenous Perspectives on Corporate Governance forthcoming from the University of Pennsylvania Journal of Business Law, Predicting Supreme Court Behavior in Indian Law Cases, 26 Mich. J. Race & Law 65 (2020), The Wrongful Death of an Indian: A Tribe's Right to Object to the Death Penalty, 68 UCLA L. Rev. Disc. 404 (2020), and The Extraterritorial Reach of Tribal Court Criminal Jurisdiction, 46 Hastings Const. L.Q. 294 (2019). Professor Christensen's scholarship has been cited by numerous courts and practitioners and is included in the major Indian law treatises Cohen's Handbook of Federal Indian Law and The American Indian Law Deskbook. He has also appeared as an expert on NPR's Morning Edition, PBS, and in the U.S. News and World Report.
In 2011 Professor Christensen received a Fulbright award to research for a year in Lithuania. He speaks very basic Lithuanian and enjoys talking about life in the Baltic States. He continues to be a Foreign Scholar Partner attached to the Vilnius University Faculty of Law.
Professor Christensen received his B.A. in American Studies and Political Science from the University of Richmond, his J.D. from the Ohio State University College of Law, and his LL.M. in Indigenous Peoples Law and Policy from the University of Arizona. He is a licensed member of the bar in both Minnesota and the courts of the Standing Rock Sioux Tribe.