Ellen S. Podgor
Gary R. Trombley Family White-Collar Crime Research Professor of Law
B.S., Syracuse University
M.B.A., University of Chicago
J.D., Indiana University at Indianapolis
LL.M., Temple University
Phone: 727-562-7348
Email: [email protected]
Office: CR-202 (Gulfport)
Courses
White Collar Crime, Criminal Law, White Collar Advocacy, Criminal Procedure: Adjudication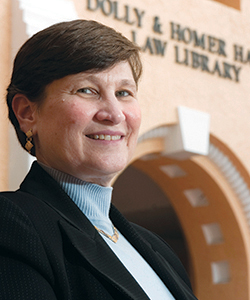 Biography
A former deputy prosecutor and criminal defense attorney, Professor Ellen S. Podgor teaches in the areas of white collar crime, criminal law and criminal procedure: adjudication. She has previously taught other courses, such as professional responsibility, international criminal law, criminal procedure, law and sexual orientation seminar, and trial advocacy.
She served as Stetson's inaugural Associate Dean of Faculty Development and Electronic Education and also served as a LeRoy Highbaugh Sr. Research Chair and presently serves as the Gary R. Trombley Family White-Collar Crime Research Professor. She is the co-author of numerous books including White Collar Crime in a Nutshell, Understanding International Criminal Law, Mastering Criminal Law, White Collar Crime Hornbook, and Mastering Criminal Procedure Vol. I and Vol. II. She has authored more than 70 law review articles and essays in the areas of computer crime, international criminal law, lawyer's ethics, criminal discovery, prosecutorial discretion, corporate criminality, and other white collar crime topics. These have been published in journals such as the Boston College Law Review, Hastings Law Journal, Washington & Lee Law Review, Harvard Civil Rights-Civil Liberties Law Review, Yale Law Journal Pocket Part, Washington University Law Review, Illinois Law Review, Fordham Law Review, Cardozo Law Review, U.C. Davis Law Review, American University Law Review, Georgetown Journal of Legal Ethics, American Criminal Law Review, Vanderbilt En Banc, Journal of Criminal Law and Criminology, and many others.
Podgor has been interviewed on National Public Radio and been quoted in newspapers across the country, including the New York Times, Wall Street Journal, Washington Post, LA Times, National Law Journal, Chicago Tribune, and Business Week. She is the editor of the highly ranked White Collar Crime Prof Blog. She is the chair of the Advisory Committee of the NACDL White-Collar Criminal Defense College at Stetson.

She has taught at other law schools including Georgia State University College of Law and St. Thomas University College of Law, and been a visiting professor at University of Georgia School of Law, George Washington University Law School and held a visiting endowed chair position at University of Alabama School of Law. She also was a visiting scholar at Yale Law School. Podgor served for six years as a member of the board of directors of the National Association of Criminal Defense Lawyers (NACDL) and presently serves on the board of directors of the International Society for the Reform of Criminal Law (ISRCL), and the Innocence Project of Florida. She is a past-president of the Southeastern Association of Law Schools (SEALS). She is a past chair of the Association of American Law School's (AALS) Sections on Criminal Justice and Sexual Orientation and Gender Identity Issues. Professor Podgor is an honorary member of the American Board of Criminal Lawyers (ABCL) and also is a member of the American Law Institute.
In 2010, Podgor received the Robert C. Heeney Award, the highest honor given by the National Association of Criminal Defense Lawyers. She is also the recipient of the Dickerson-Brown Award for Excellence in Faculty Scholarship, the Homer & Dolly Hand Award for Excellence in Research, the J. Ben Watkins Award for Excellence in the Legal Profession, the Southeast Association of Law Schools Distinguished Service Award and the ABA Criminal Justice Section Raeder-Taslitz Award. She received Stetson's Excellence in Teaching Award in 2019.
Featured Publication
Obstruction of justice can be a criminal offense, a sentencing enhancement, and a basis for a judicial or presidential impeachment. This Article offers a framework to assure consistency and predictability in its usage as a crime.