Darryl C. Wilson
Associate Dean for Faculty and Strategic Initiatives, Attorneys' Title Fund Professor of Law and Director, Institute of Caribbean Law and Policy
B.F.A., Southern Methodist University
B.B.A., Southern Methodist University
J.D., University of Florida
LL.M., The John Marshall Law School
Phone: 727-562-7882
Email: [email protected]
Office: DA-213 (Gulfport)
Courses
Real Property, Real Estate Finance, Housing and Home Ownership for the Elderly, Comparative Real Estate Sales Transactions, Trademarks and Unfair Competition, Copyrights and Patents, International Intellectual Property, Alternative Dispute Resolution, Sports Law, Entertainment Law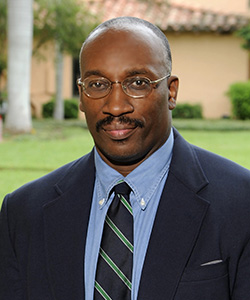 Biography
Before joining Stetson, Professor Wilson was an associate professor at Detroit College of Law (now Michigan State University College of Law).
He has taught internationally throughout the Caribbean, as well as Spain, Estonia, Zambia, the Netherlands and South Korea. He is the faculty advisor for the Intellectual Property Law Society, Sports and Entertainment Law Society, the Black Law Students Association, and the Real Property Probate & Trust Law Society. He is the director of the Intellectual Property Law Externship Program, Board Treasurer for the American-Caribbean Law Initiative, and Director of the Institute for Caribbean Law and Policy.
Prior to committing to full-time academia, Professor Wilson taught bar review courses and practiced law in his hometown, Chicago, IL. His varied career began as a public interest law fellow with the Congressional Reginald Heber Smith Community Law program. He served his public interest law fellowship with the Cook County Legal Assistance Foundation. He later served as a staff attorney and pro bono coordinator for that organization. Thereafter, he served as in-house intellectual property counsel for Soft Sheen Products, as a regional counsel for real property affairs with the UAW, and as the principal attorney in his own private firm.
Professor Wilson is an active member of several professional and community organizations, and he is also active in alternative dispute resolution having served as a neutral, mediator and/or arbitrator for international (i.e. WIPO, NAF), national (i.e. USPS, AAA), and state agencies (i.e. Fla Attorney General's Ofc). Professor Wilson is the author of numerous noteworthy ADR decisions, particularly in the area of internet domain name arbitration disputes. He has authored several articles in his areas of expertise and has co-authored a casebook on Sports Law. He has been twice certified as an NFL Players Association contract advisor. Additionally, Professor Wilson has edited and co-authored two books on Real Property Law and is a regular columnist for the ABA Probate & Property Magazine.