Faculty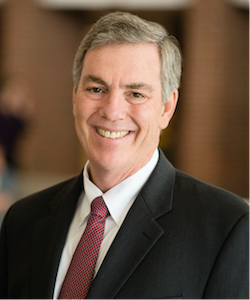 Charles J. Tabb
Distinguished Visiting Lecturer
J.D., University of Virginia
B.A., Vanderbilt University
Email: ctabb@law.stetson.edu
Office:
Courses
Bankruptcy, Contracts, Law Teaching Practicum, Perspectives on Debt, Shackles of Debt-Mod America
Professor Charles J. Tabb is the Mildred Van Voorhis Jones Chair at the University of Illinois College of Law. He is currently serving as a distinguished visiting lecturer at Stetson Law. He taught at Illinois from 1984 through 2019, and is considered one of the nation's leading bankruptcy scholars, specializing in bankruptcy, contracts, and commercial law. Professor Tabb served as interim dean of the College during the 2007-08 academic year and was the associate dean for academic affairs from 2003-05.
Professor Tabb earned his bachelor's degree and graduated summa cum laude from Vanderbilt University, where he was elected to Phi Beta Kappa. He earned his JD from the University of Virginia, serving as a member of the Virginia Law Review and Order of the Coif. After graduation, Tabb recorded the highest score of over 1,400 successful candidates on the Texas state bar examination. Before joining the Illinois faculty, he practiced bankruptcy and commercial law in Dallas, where his cases included the Braniff Airways and Continental Airlines Chapter 11 reorganizations. He currently is of counsel with the law firm of Foley & Lardner LLP in Chicago.
In his years on the Illinois faculty, Professor Tabb received a Best Professor award, was selected as the 2L Professor of the Year, and received a campus-wide Outstanding University Professor award. He has also served as a visiting professor at the universities of Texas, Colorado, FGV in Sao Paulo, Brazil, Tillburg University in the Netherlands, and Católica Global School of Law, Universidade Católica Portuguesa, in Lisbon, Portugal; as a visiting scholar at Cambridge University, Nottingham, and Shanghai; and as the Southeastern Bankruptcy Law Institute Distinguished Visiting Professor at Georgia State University. In 2014, he served as the Resident Scholar for the American Bankruptcy Institute in Alexandria, Virginia.Professor Tabb has published twelve books and scores of articles and book chapters on bankruptcy law. His books include a 1,500-page treatise, The Law of Bankruptcy (West Publishing, 4th ed. 2016); a casebook on bankruptcy, Bankruptcy Law: Principles, Policies & Practice (with Brubaker) (LexisNexis, 4th ed. 2013); A Debtor World: Interdisciplinary Perspectives on Debt (ed. with Professors Brubaker and Lawless) (Oxford University Press 2012); and Bankruptcy Anthology, an edited collection of scholarly works on bankruptcy law (Anderson Publishing Co., 2002). Tabb is also one of the lead editors for the multi-volume treatise, Bloomberg on Bankruptcy (2014), and was the editor for Best of the ABI: The Year in Business Bankruptcy (2014).
In 1993, he was appointed by Chief Justice William Rehnquist to the Advisory Committee on the Federal Rules of Bankruptcy Procedure of the Judicial Conference of the United States. He was later appointed by former Illinois Governor Jim Edgar as a commissioner for the National Conference of Commissioners on Uniform State Laws, and served from 1997 to 2001. In 2002, Professor Tabb traveled to Beijing, where he advised the National People's Congress of the People's Republic of China on the reform of the Chinese bankruptcy law, which went into effect in June 2007.
Professor Tabb is a fellow of the American College of Bankruptcy, and was a member of the Board of Regents, and a member of the American Law Institute.