Candace Zierdt
Professor of Law
B.A., University of Kansas
J.D., University of Kansas
LL.M., Temple University
Phone: 727-562-7349
Email: [email protected]
Office: DA-219 (Gulfport)
Courses
Contracts, Sales and Commercial Transactions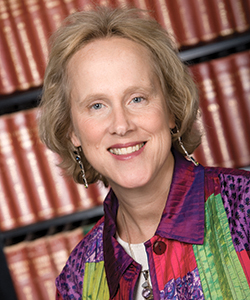 Biography
Professor Zierdt joined Stetson's faculty in 2007 after serving as a visiting professor.
Professor Zierdt was the Alan Gray Professor of Law at the University of North Dakota and served as interim dean. She teaches in the areas of contracts, the uniform commercial code and juvenile law. She has served as an academic specialist in Slovenia and Macedonia on the subjects of American contract law and the rule of law.
Before joining the University of North Dakota law faculty, Professor Zierdt practiced law for 11 years in Kansas City with Legal Aid of Western Missouri. In 1983, Professor Zierdt received the Missouri Association of Social Welfare Award for Outstanding Legal Services. She also was a law clerk to Judge Doris Smith of the Pennsylvania Commonwealth Court of Appeals. Professor Zierdt lectures and publishes about issues relating to children and the law and commercial law. In 1994, she received the Lydia and Arthur Saiki Prize for Excellence in Graduate/Professional Teaching.
Professor Zierdt has been a North Dakota Commissioner on the National Conference of Commissioners on Uniform State Laws since 2001, and a member of the NCCUSL Committee on Liaison with American Indian Tribes and Nations since 2002. She is a NCCUSL member of the joint editorial board for Tribal Code Development, and member of the task force on Implementation of The Model Tribal Secured Transactions Act. She also is an elected member of the America Law Institute.