Anne E. Mullins
Associate Dean for Assessment and Professional Engagement and Professor of Law
A.B., Dartmouth College
J.D., University of Chicago Law School
Phone: 727-562-7614
Email: [email protected]
Office: DA-209 (Gulfport)
Courses
Research and Writing I and II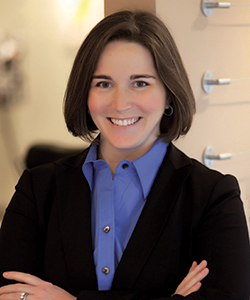 Biography
Professor Anne E. Mullins is passionate about teaching legal writing. She sets high expectations for her students, and she helps her students meet those expectations. Her students build learning communities in her classes, and she and her students are accountable to each other as members of their shared community. She has been recognized for excellence in teaching several times, both at the law school level and university-wide.
As a scholar, Professor Mullins primarily examines judicial writing through cognitive theory. She has published books and articles in several journals, including the Wake Forest Law Review, University of Richmond Law Review, Legal Communication & Rhetoric: JALWD, Wyoming Law Review, and Washburn Law Journal. She had the unique opportunity to practice what she studies for the Feminist Judgments Project, authoring the rewritten opinion Desert Palace Inc. v. Costa, 539 U.S. 90 (2003), in Feminist Judgments: Rewritten Employment Discrimination Opinions (Ann McGinley & Nicole Porter eds., 2020) (Cambridge University Press). In 2022, Stetson awarded Professor Mullins the Dickerson-Brown Award for Excellence in Faculty Scholarship.
A national leader in legal writing, Professor Mullins served as the president and a member of the board of directors of the Association of Legal Writing Directors (ALWD), and she chaired ALWD's 2019 Biennial Conference.Currently, she is the editor of The Unending Conversation, a special edition of the Stetson Law Review Forum dedicated to fostering scholarly dialogue in the legal writing discipline. She further promotes legal writing scholarship through her service to the Legal Writing Institute's Scholarships Grants Committee. She served on the Executive Committee of the American Association of Law Schools Legal Analysis, Writing, and Research Section; she is now a member of the organization's Nominations Committee, the group that recommends each year's section leadership.
Before entering academia, Professor Mullins practiced complex commercial litigation at the top national litigation boutique, Susman Godfrey LLP, where she had the privilege of working alongside some of the best trial lawyers in the country. From those lawyers, she learned how to be a fearless and effective advocate, serving on teams that recovered tens of millions for plaintiffs and defending clients against equally high-stakes claims. She clerked for the Honorable Jacques L. Wiener of the United States Court of Appeals for the Fifth Circuit and the Honorable Sarah S. Vance of the Eastern District of Louisiana.
Professor Mullins received her J.D., with honors, from the University of Chicago Law School, where she served on the University of Chicago Law Review. She earned her A.B. from Dartmouth College.
A Virginia native, she currently lives in Dunedin with her husband Tim and her elementary school aged children, Seamus and Eloise. She loves to explore Florida's west coast by land and by sea. She is an active member of the First Presbyterian Church of Dunedin.